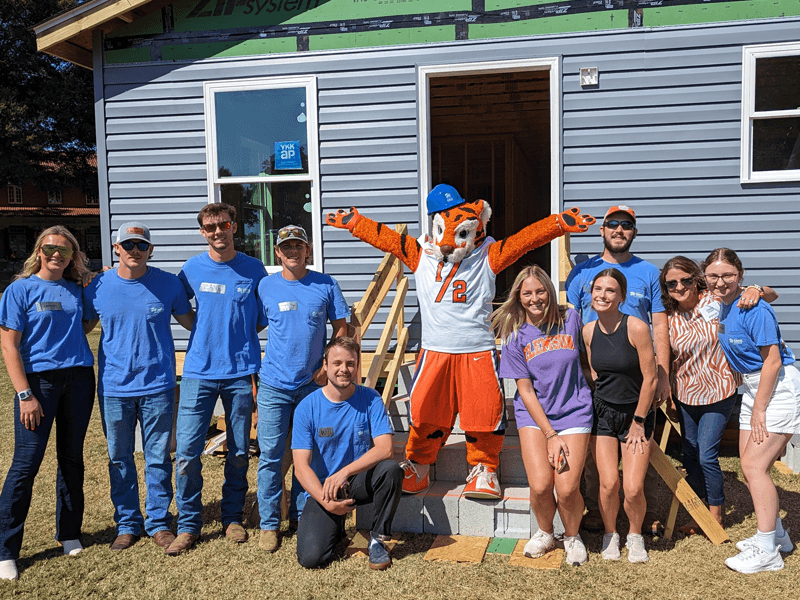 On October 6, Clemson University's Campus Chapter of Pickens County Habitat for Humanity (Campus Chapter; PCHFH) completed its 30th annual Homecoming Build on Bowman Field. Spearheaded by the Campus Chapter leadership and with the help of 294 student volunteers, the community joined together to build a three-bedroom, two-bath home. The students, supervised by seasoned construction experts, learned new skills and put existing skills to the test.
But the build was just the visible tip of the iceberg. The student body took charge of everything, from the planning stages, rallying the funds, to ensuring there were enough hands on deck. Their efforts and unwavering spirit were the backbone of this achievement.
Tamara Dourney, PCHFH's Volunteer Coordinator, reflected on the endeavor, noting, "Clemson University's students, especially the Campus Chapter leadership, are the epitome of community and service. Their dedication resonates with us deeply, and we're incredibly proud."
For many, this wasn't just about building a structure but also about learning and personal growth. "Being part of the build was rewarding on a personal level, but working alongside other Clemson students for such a good cause was inspiring," said Zane Andrews, Campus Chapter construction co-coordinator. "Everyone was so willing to pick up a hammer and help, even students who had no construction experience at all."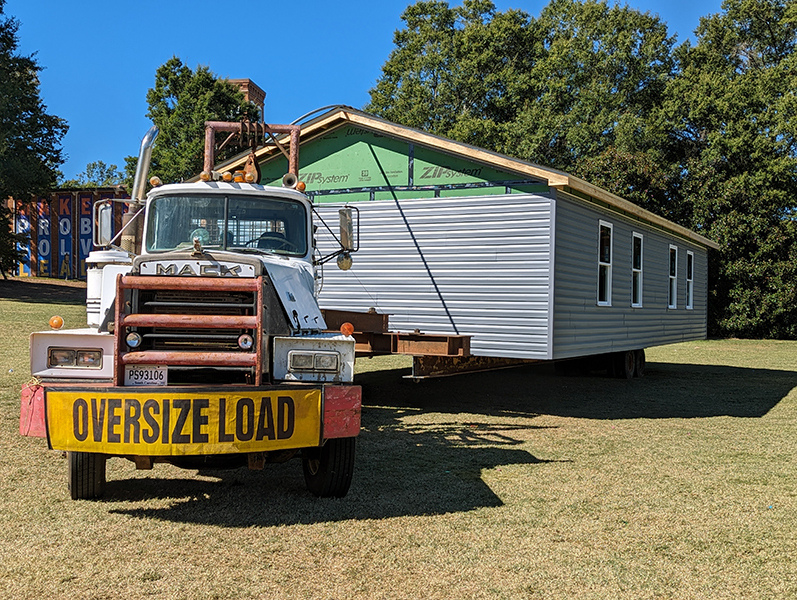 After completion, the home was relocated to the city of Pickens by Forrest Movers, where volunteers from Clemson and the community will continue their work. When finished, the home will provide affordable housing for a deserving family.
Jill Evans, PCHFH's Executive Director, emphasized the significance of the community's unwavering support. "Our community believes wholeheartedly in the cause of affordable homeownership. Every Habitat homeowner purchases their home, and the affordability stems from minimized construction expenses, achieved through volunteer efforts and generous donations. The Homecoming Build vividly showcases this commitment and our collective aspirations for affordable housing across Pickens County."
The event also benefited immensely from generous support through sponsorships. Notably, Great Southern Homes donated $20,000 to help offset construction costs; Harbin Lumber donated trusses, and Dolly's Roofing ensured the future homeowners stay warm and dry. Moreover, the student-initiated Square Foot and Silent Auction fundraisers garnered individual participation from the community, turning this ambitious project into reality.
As the 30th Homecoming Build chapter concludes, it stands as a beacon of Habitat for Humanity's enduring values. Those inspired to learn more about the Campus Chapter or the Homecoming Build can find more information at https://pickenshabitat.org/who-we-are/campus-chapter.html.