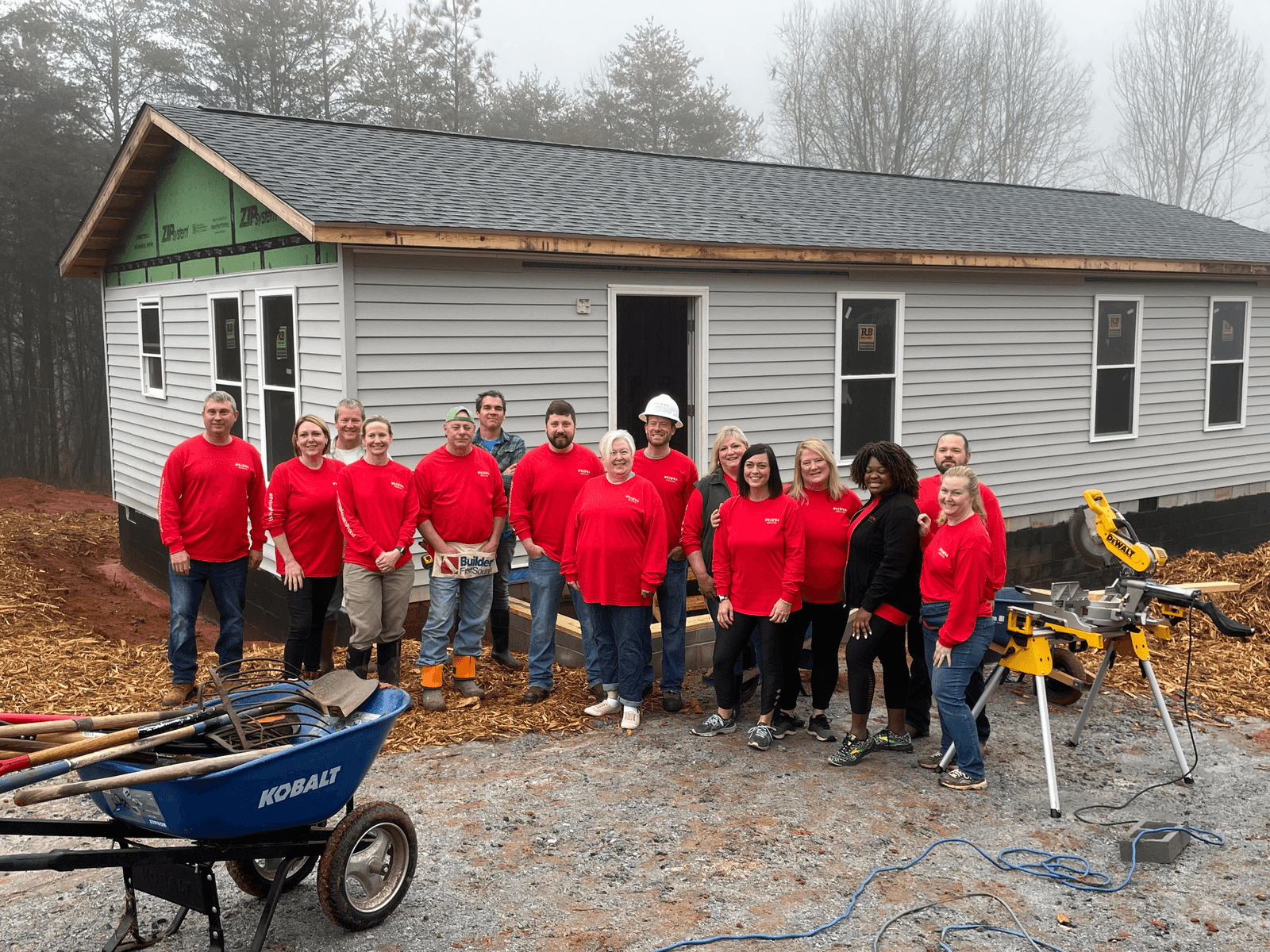 On a February morning, 13 Prisma Health employees gathered in front of the Clemson Campus Chapter's Homecoming House in Liberty, South Carolina to be briefed on their responsibilities for the day. While this Liberty team was preparing to start their day, other Prisma employees all across the state were also making their way to Habitat homes in various stages of construction. It was the inaugural Prisma Health Partnership Day with Habitat for Humanity South Carolina. 
The Prisma Health Partnership Day was an important day for both Prisma and Habitat. A long time financial supporter of Habitat, Prisma wanted to find a way to get their feet on the ground and get hands-on experience volunteering with the organization. Conversations about a state-wide partnership day began in mid-2020, but with the emergence of COVID-19, the idea of having a build day in 2020 was not feasible. At the start of 2021, the decline of COVID-19 cases presented the perfect opportunity for Prisma employees and Habitat staff to come together for the long-awaited Partnership Day. 
Prisma teams helped build eight homes across six different counties in South Carolina, which was the largest single-day multi-site project in Habitat South Carolina's history! In this way, Habitat affiliates were able to make progress on their homes across the state and Prisma served the community in a new way. Todd Walker, CEO of Prisma Health Baptist Easley Hospital, was on-site at the Liberty build and enjoyed the unique way that Habitat allowed him to carry out Prisma's values. 
"The whole idea behind Prisma Health is to create a better state of health in South Carolina and beyond. To do that, you really have to address the whole person beyond their physical health," he said. "Habitat focuses on serving a population that is vulnerable, so the connection is really natural there. It was a unique partnership opportunity for us. If a person has the safety and security of a home and the different things that provides, there's a much better chance that they can lead a healthier life."
Jill Evans, Executive Director of Pickens County Habitat for Humanity, was also on-site at the Liberty build and was able to see the Prisma employees' passion for helping the community firsthand. 
"Everybody that I interacted with beforehand and on that day just seemed really genuinely invested in the community, of course from the healthcare side of things, but bringing the passion outside of the hospital to help a family they didn't even know," she said.
Not only was Evans on site on the Partnership Day, she also spent weeks beforehand working with Nancy Lee, Executive Director of Habitat for Humanity South Carolina, to coordinate the project. Once Lee was able to determine a date that worked best for all involved,  she put each Habitat affiliate in contact with the Prisma hospital in their county. From there, Evans took over the planning of the Liberty build for Pickens County. There were weeks of coordinating details like volunteer waivers, snacks, picking which house the Prisma team would work on and determining a sufficient number of volunteers to have work on the house. Planning these details was important to ensure the volunteers would stay busy, engaged and productive during their shift. 
"The goal is always that everyone feels welcome. They just need to be teachable and willing for someone to show them the task and usually they feel really empowered by the end of the experience," Evans said. "We benefited so tremendously from what they did, but it was also fun to be able to offer them the opportunity to come out and represent their organization doing something meaningful and also doing something as a team together."
At the end of the day, both Habitat and Prisma want to serve their community well. Habitat offers people the ability to do this by putting in time and sweat towards building homes. Prisma engaged in this opportunity and it helped strengthen their team while benefiting their organization as a whole.
"Seeing folks in a different environment that you don't usually see them in, coming together to serve a community in need, really creates an esprit de corps that I think is great for an organization," Walker said. 
Anyone can participate in community service by volunteering with Habitat for Humanity, just like Prisma. If you or your organization is interested in volunteering with PCHFH, contact Jill Evans at jillevans@pickenshabitat.org or visit our website at https://pickenshabitat.org/how-to-help/volunteer.html.