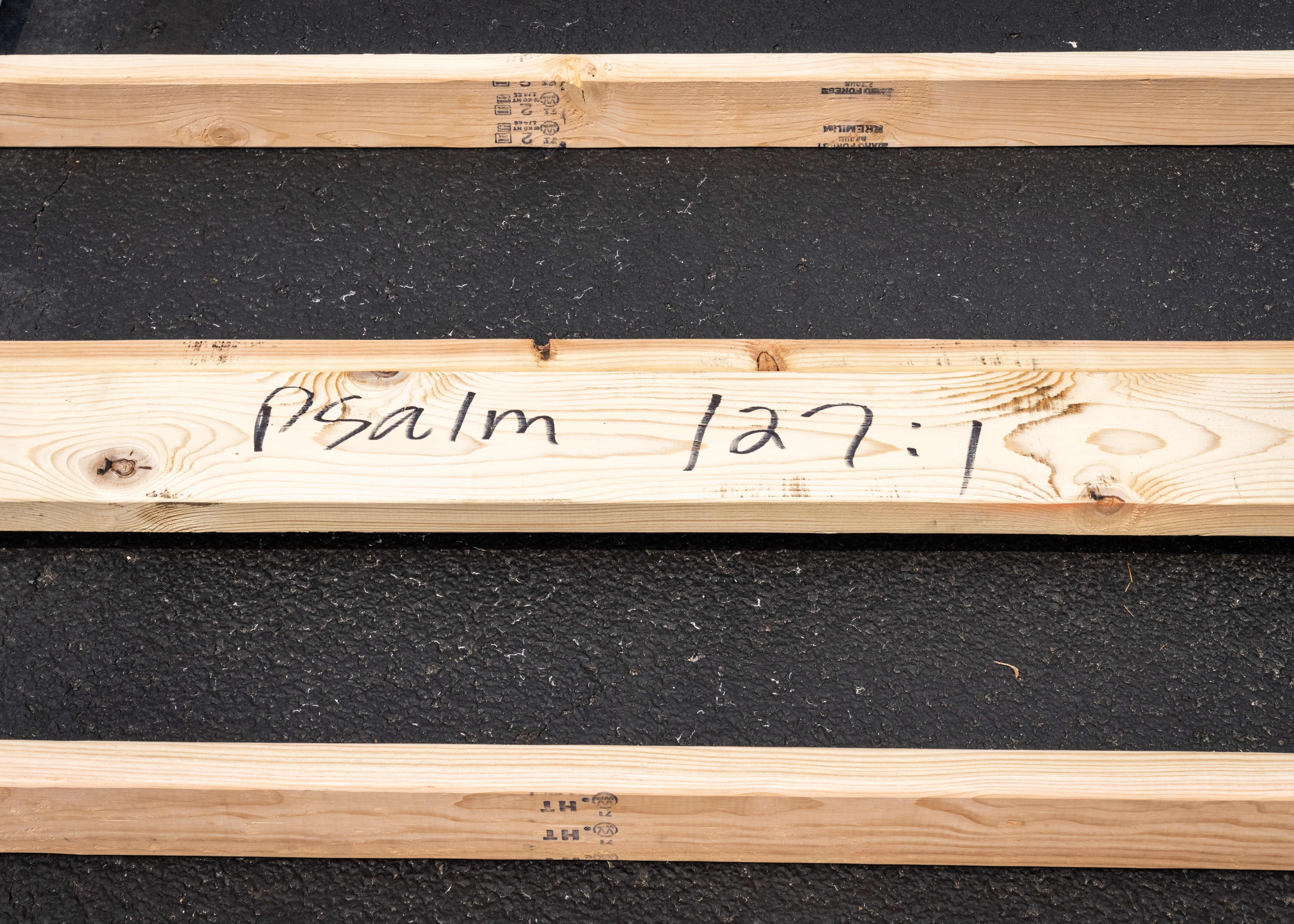 Since its founding in 1976 in Americus, Georgia, faith has been the cornerstone of Habitat for Humanity. Habitat grew from the concept created in 1942 by Clarence and Florence Jordan and Martin and Mabel England. Their vision was known as Koinonia Farm, located in south Georgia, a cooperative community where Christ-followers would share their lives and resources, following the Christian values of compassion and service. Despite being the target of opposition and violence from hate groups outside the community, the leaders and residents of Koinonia pressed on with their mission and sought innovative ways to continue to perform and fund community outreach.
Living and working alongside each other for years, the mission grew into a practice called "partnership housing" when Millard and Linda Fuller visited the Farm and were motivated by the residents' values and faith. Working together to build homes for their neighbors in need, the Fullers imagined an organization of volunteers demonstrating Christ's command to love their neighbors, working alongside future homeowners to build decent, affordable homes. So in 1976, the Fullers founded Habitat for Humanity International which now operates in all 50 states and more than 70 countries.
Pickens County Habitat for Humanity was established in 1981 at Pickens Presbyterian Church in Pickens, South Carolina. The founding principles of compassion, service and following Christ continue to guide PCHFH to continue the mission: Seeking to put God's love into action, Habitat for Humanity brings people together to build homes, communities and hope. One way they've achieved this is by forming partnerships with local congregations of faith.
A faith partnership with PCHFH encompasses various acts of support, such as assisting in building homes and fundraising from those who feel called to join the housing ministry of Habitat. Such a partnership is often formed with a "biblical mandate" on the hearts of those who get involved. They are called to make their faith active by demonstrating the love of Jesus Christ, which includes helping those less fortunate meet their basic needs.
One of PCHFH's mission principles is to support sustainable and transformational development. PCHFH views their work as successful when it transforms lives and promotes positive and lasting social, economic and spiritual change within a community; when it is based on mutual trust and fully shared accomplishment; and when it demonstrates responsible stewardship of all resources entrusted to PCHFH. Church communities and their faith continue to help PCHFH live out this principle and the love of Christ.
The concept of a Covenant Church was adopted by Habitat International in 1987, and is created when a local church signs a covenant with Habitat pledging to provide moral, physical and financial support. The church also agrees to form a group that updates the church congregation on any housing issues. First United Methodist Church of Easley became PCHFH's first Covenant Church in 1989, promising to financially and physically support the first Habitat house built in Easley, South Carolina. This house was completed the following year with the help of more than 75 volunteers from the church and other groups. Since then, PCHFH has continued to partner with more than 15 churches, whose members have made the mission of Habitat a personal aspect of their faith.
 After PCHFH partnered with First United Methodist Church of Easley, monetary and volunteer support from other congregations and faith leaders followed. As churches began donating small gifts and lunches for volunteers, they found they wanted to make a larger impact. Soon, church groups committed to build entire homes through an Apostle's Build, which involved hundreds of congregation member-volunteers and thousands of dollars raised. Some groups even felt called to missions abroad as part of Habitat's Global Village program, building homes for families who need housing in countries such as Guatemala and Honduras.
            The Rev. Chris Heavner, retired Campus Pastor of University Lutheran Church in Clemson, volunteered extensively with PCHFH and helped build the annual Homecoming House for 25 years. Heavner's career-long commitment to Habitat's mission helped encourage and empower the students he led at Lutheran Campus Ministry and as Faculty Advisor of Pickens County Habitat for Humanity at Clemson University (Campus Chapter). In their service to Habitat, students learn to put their faith into action by volunteering as a group to help build a Habitat house, spending the night guarding the Homecoming House, leading the Campus Chapter, helping to raise funds for the organization, or by simply praying for the families who will occupy the new homes. Heavner's legacy endures as former students continue to serve in their local faith communities, as the Campus Chapter continues the student-led ministry of PCHFH, and as LCM and University Lutheran Church maintain involvement in Habitat projects.
The Rev. Jon Heiliger, Parish Pastor of University Lutheran Church, was introduced to Habitat in the early 1990s in Charlotte by his pastor who encouraged him to get involved. Since relocating to Clemson in 2016, he continues to work with PCHFH because he believes in Habitat's sustainable ministry that grows through involvement.  
"I want to continue working with PCHFH and think our partnership has tied our church community closer together," Heiliger said. "I would like us to continue to support the Homecoming Build and continue to secure funding and grants, and to educate people about Habitat."
Motivated by their Christian values of compassion and service, faith partnerships have helped PCHFH construct more than 25 houses. These faith partnerships continue to demonstrate what it means to love your neighbor and help change lives, all while strengthening their own community. Faith groups can help by volunteering to raise funds, preparing meals, involving youth, serving on boards and committees, and traveling abroad with Global Village trips. To get your church involved, please call (864) 878-6374 or email Jill Evans.