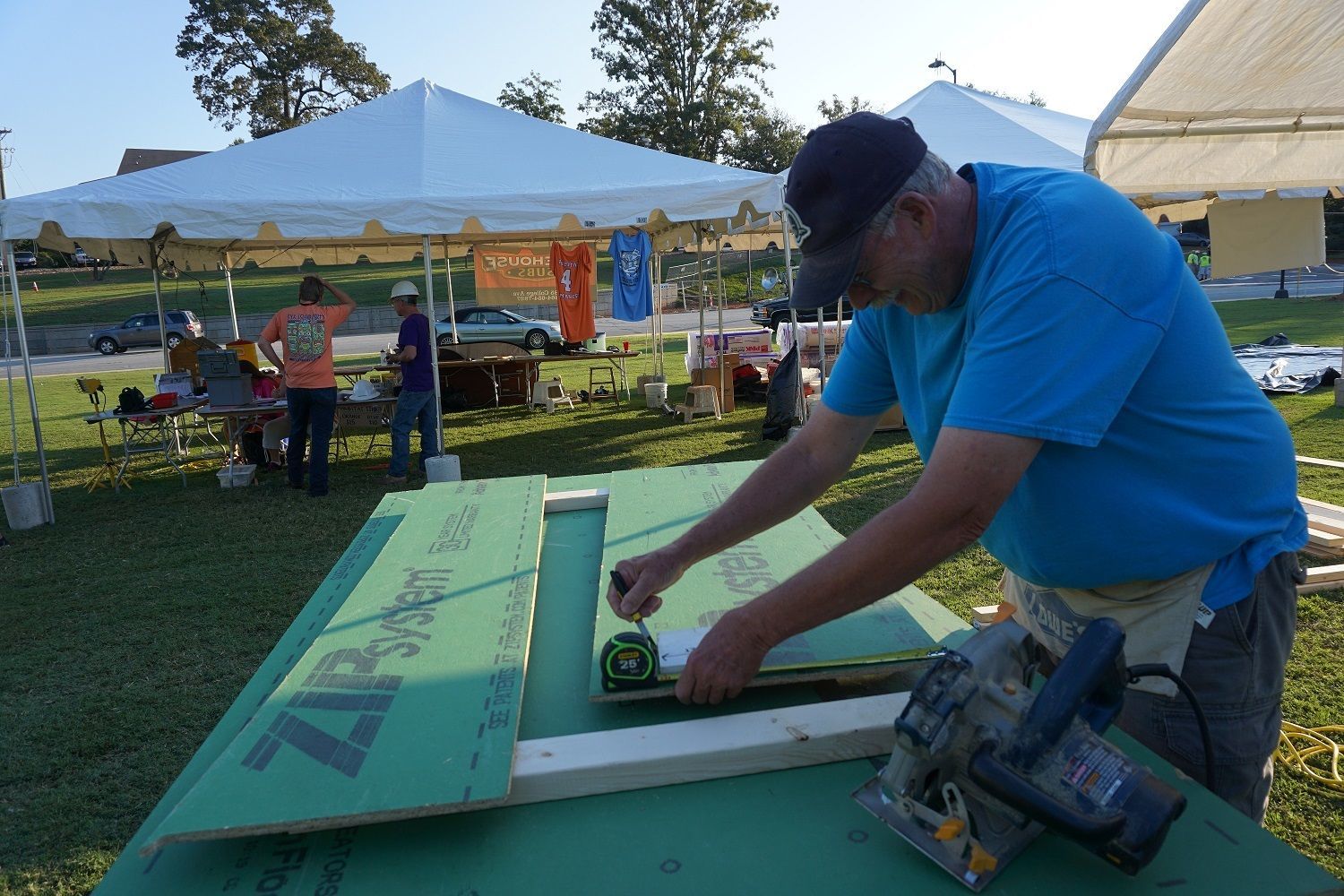 As Pickens County Habitat for Humanity approaches giving season, we would like to encourage those who cannot donate financially to give the gift of time and materials used to build homes. This type of donation is called gifts in-kind, and occurs when someone contributes goods or services instead of money. Examples of in-kind gifts include goods like household  appliances, lumber, and tools. Gifts in-kind may also be counted as time spent volunteering or  drawing housing blueprints to assist in the Habitat mission of providing affordable housing.
In-kind donations play a massive role for non-profit housing organizations like PCHFH. In the past 12 months, the cost of building materials has increased on average by 26.1%, the highest surge ever reported by the Wells Fargo Housing Market Index. These inflated prices are caused by several factors, including the cost of regulation, supply chain issues and an overall shortage of labor.
To put this surge in perspective, each of the homes Habitat for Humanity builds requires approximately 150 pounds of nails and 400 two-by-fours. With the average Habitat house consisting of 1,200 square feet and three bedrooms, combined with increasing building costs, it has become increasingly more challenging to provide affordable housing to families in the area. 
Jill Evans, Executive Director of PCHFH, said they are observing a 35% increase in housing and materials costs compared to two years ago. This means that the average three-bedroom / two-bath house that PCHFH normally builds for $100,000 now costs between $130,000 to $135,000! 
One of PCHFH's corporate partners, Huber Engineered Woods, provides specialty high-performance structural panels that provide the house with insulation and moisture and air protection. Based in Charlotte, North Carolina, with facilities throughout the U.S., Huber manufactures innovative and dependable building materials.
"Our products really act as the foundation for the house," said Sam Johnson, Regional Sales Manager of Huber Engineered Woods. "We provide Pickens County Habitat with four-feet by eight-feet sheaths that complete the wall and the floor of the house."
Not only that, but the sheathing provided by Huber for the roof helps to fortify homes from storms and water for decades so that it does not have to be replaced as often as other products. This long-term savings and peace of mind is passed on to the homeowner.
Huber Engineered Woods Vice President of Engineering and Quality, Kurt Koch, attended Clemson University and played a key role in the initial decision to donate materials to PCHFH and continues to help organize the donation every year.
The Homecoming House is one of the biggest recipients of in-kind donations for PCHFH. They typically receive about $20,000 worth of donated materials for the annual Build on Clemson University's campus.
"A majority of our donations are for the Homecoming Build, which is great," said Evans. "What I would love to see is consistent donations like that for all of our other builds. If we could save $60,000 or $80,000 a year, that is almost a whole other house we could build for another family in need."
One of the most significant issues Johnson has to navigate when organizing the transferring of donated materials is how it will get to the job site.
"Because we sell our products to suppliers who then sell to consumers, we don't normally deliver to job sites," said Johnson. "But, Builders First Source helps us out a lot because they come to pick up our products and deliver them to the Habitat site, which is so appreciated."
It may surprise you to find out that Huber doesn't only dedicate their materials to PCHFH. Their team also donates their time. Johnson mentioned that their team often volunteers with various local Habitat affiliates, helping build in a more hands-on way than simply donating materials.

"At Huber, we really try to cultivate a friendly and helping environment because we want to help people have not only better houses but also lead better lives, so if we can help do that in any way, we will," Johnson said.
Throughout its 40-year history, PCHFH has partnered with corporations like Huber to do just that. Not only are families getting quality materials, but these companies help to build strength, stability, and self-reliance through housing which positively impacts families all over Pickens County.
Evans also noted that because of the ongoing supply chain delays, PCHFH is not able to receive household appliances like ranges or refrigerators, typically donated by Whirlpool. This adds another $17,000 to the cost of the house, costs which are passed on to the homeowner.
Now more than ever your donations are so important, gifts and in-kind donations of all sorts have helped PCHFH further the mission to bring affordable housing to the local community and provide resources for families in need of a decent place to call home.
Contributions large and small will always make a difference, and every company can give something to help even more families build better futures. If you are interested in making an in-kind donation, please don't hesitate to get in touch with Jill Evans or (864) 878-6374 to set up your donation.