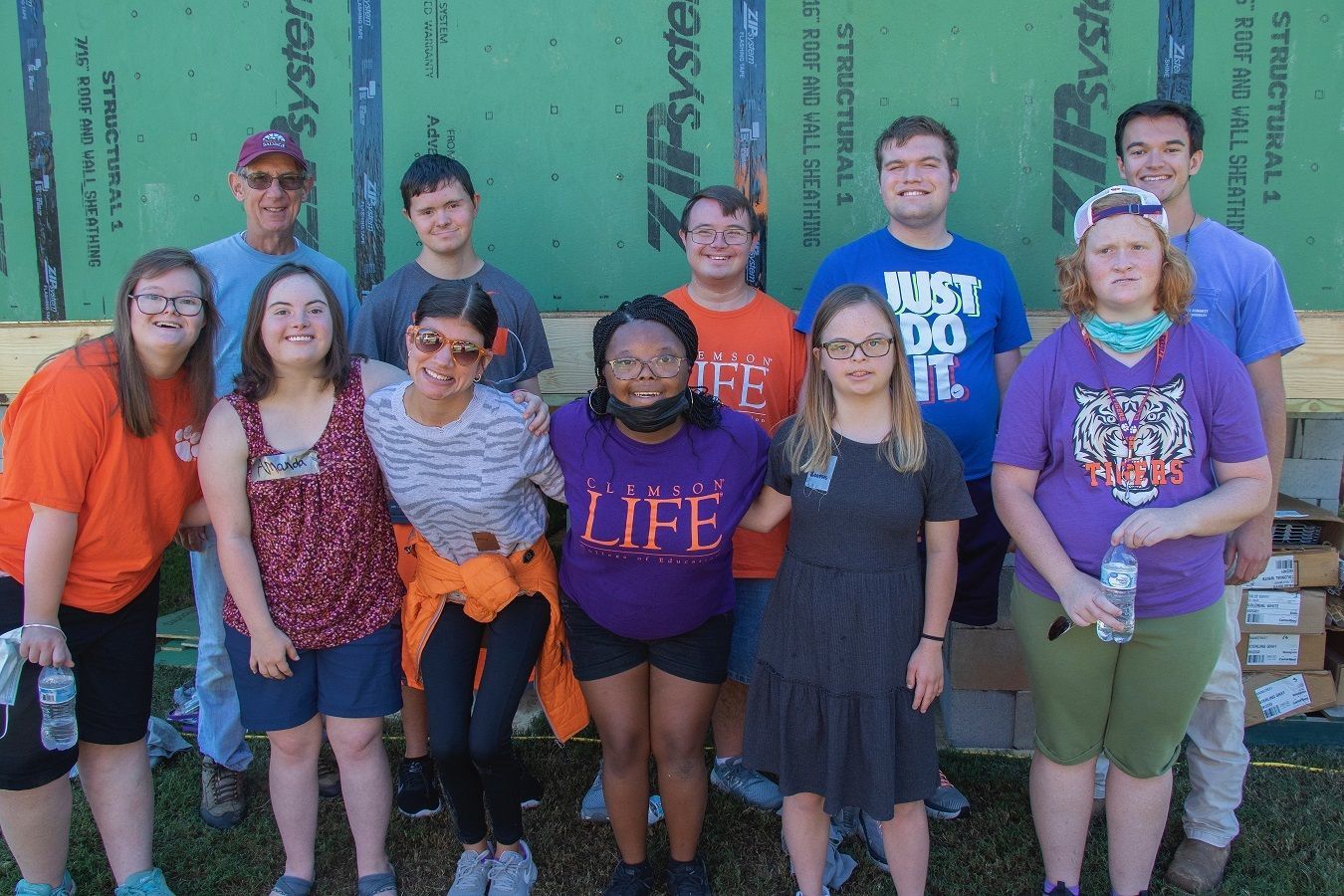 For 28 years, the Homecoming Build has been an important annual project for Pickens County Habitat for Humanity at Clemson University (Campus Chapter). To simply say it is "important" may be an understatement. This annual Build provides safe and secure shelter to families in Pickens County who need an affordable home to call their own.
The Homecoming Build also provides several days of community to the volunteers who show up to lend a hand to its construction. Some volunteers return every year to meet a whole new crew of students who donate their time and effort. And, aside from the fact that this annual tradition is older than the students who currently lead it, it is inspiring to see so many volunteers working together to help improve their local community.
ClemsonLIFE
ClemsonLIFE is a program at Clemson University that helps young men and women with intellectual disabilities learn skills to help them explore employment opportunities and learn to live independently. The Homecoming Build has become an annual service event where a group of ClemsonLIFE freshmen are able to help with a wide variety of tasks needed for construction.
ClemsonLIFE Program Manager, Erica Walters, explained the importance of volunteering to help with the Homecoming Build and the reason why ClemsonLIFE students participate in various philanthropic opportunities.
"They like this kind of stuff because they do enjoy giving back, feeling purposeful and meaningful," said Walters. "Because they know what it's like to get, they like to give."
This year, nine ClemsonLIFE students came out for a few hours on a Tuesday morning. They helped with jobs such as moving wood, searching for protruding nails in the drywall, and hammering together the interior walls. Each student offers a unique skill set and has something to contribute to the Build. Even the simplest tasks make a huge impact on the overall construction of the house, and every individual is valued as a contributing team member to get the job done.
The First-Time Volunteers
            Many first-time volunteers know nothing about home construction, so they may feel intimidated, unqualified, or that they can't help. But they quickly learn that there are seasoned volunteers at hand to help teach them the necessary skills, and they experience the fulfillment of learning something new while helping to build a house for a family in need.
Students are often surprised at the fast pace in which the house construction progresses, and they learn that details matter - precise measurements, orderly steps and the right materials are important. Novices report a sense of relief to be accepted no matter their level of experience, saying they feel valued as an important member of a team. And many of these first-time volunteers return each year to take part in the excitement of the Homecoming Build and to hone the skills they learned.
Allison O'Toole has been passionate about service her whole life, now a senior studying Construction Science and Management, the Homecoming Build is the perfect opportunity to combine her career goals with a personal passion of community service and helping others.
"It's such a great way to give back and to see the effects that we're really going to have on people," she said. "Giving someone a house and a stable environment to raise their family."
 University Lutheran Church
The Lutheran Campus Ministry has a long history of working on the Homecoming Build with the Campus Chapter. The Rev. Chris Heavner was Campus Pastor of University Lutheran Church and Faculty Advisor to the students of the Campus Chapter until his retirement three years ago. He laid the foundation for the church's involvement with the Homecoming House and the church remains a strong partner with PCHFH and continues to work on the Build every fall.
During this year's Build the current campus pastor, the Rev. Josh Kestner, paid homage to Heavner's influence as one of the reasons LCM remains so involved. "Chris is part of the reason this still happens, so we wanted to keep that legacy going," he said.
One way LCM contributes to the Build is with their annual sleepover on the job site to protect the house from theft or vandalism overnight. During the sleepover, the students and Kestner sleep inside – to protect the house, and outside – to protect the tools and materials.
"Students know how hard it is to find affordable housing, so I think that's something they care a lot about," said Kestner. "For us as a church, we want to make sure that this community is not just for the people who are already here, but for people who can come in and be a part of this community too."
University Lutheran Church does more than sleepover at the Homecoming House. They provide daily parking in their lot for the supervisors who volunteer on the Build, church members typically provide a meal for the LCM students who spend the night, and Parish Pastor, the Rev. Jon Heiliger, can be found on-site every day helping with construction.
The Devoted Dads
A long-time volunteer with Oconee County Habitat for Humanity, Augie Tortora's professional background in construction and enthusiasm for working alongside students keeps him crossing county lines to join in the Homecoming Build each year since 2010. He also helps coordinate a donation from Oconee Habitat to contribute to the Homecoming Build each year.
"It is a great opportunity to meet the students, that really is my favorite part," he said. Tortora's two children, Scott and Jenny, were involved with the Campus Chapter as Clemson students 20+ years ago which sparked his interest in Habitat's mission. Although Tortora was still working full-time and unable to volunteer alongside his kids at the Homecoming Build when they were students, he got involved after retiring and relocating to the Upstate.
Bob DiAntonio also got involved several years ago after his son, Tom, joined the Campus Chapter in 1998 and talked about his experience working on the Homecoming Build. That 1998 Build is particularly memorable for DiAntonio because he got to meet the homeowners, Jerome & Paula Williams, at their house dedication ceremony, and he was also on hand to celebrate with them in 2019 when they paid off their mortgage. This produced a sense of fulfillment that a house he helped build is now paid off by the hard work and determination of a Habitat homeowner.
In the beginning, DiAntonio drove to-and-from Spartanburg to work on the Homecoming House each year, but is now retired and lives in Clemson. He also has taken on more responsibility with PCHFH, serving as an officer on their board of directors and helping to guide all aspects of the organization, including the Campus Chapter and its annual Homecoming Build. DiAntonio has enjoyed getting to work with the students at the Homecoming Builds and hopes that they carry forward their service even after their time at Clemson.
All Helping Hands Welcome
The annual Habitat Homecoming Build at Clemson is not possible without the many hands that plan, donate, volunteer, build and administer the event. People come from a wide range of backgrounds and experience, but all have the same goal in mind. Whether helping from afar or spending every day at the Build, each volunteer laid a hand on the house that will soon be called a home. The Homecoming House simply could not exist without the support of each vested community member, united in their common goal of love for their neighbors. The impact of these passionate people is cause for celebration and success year after year!