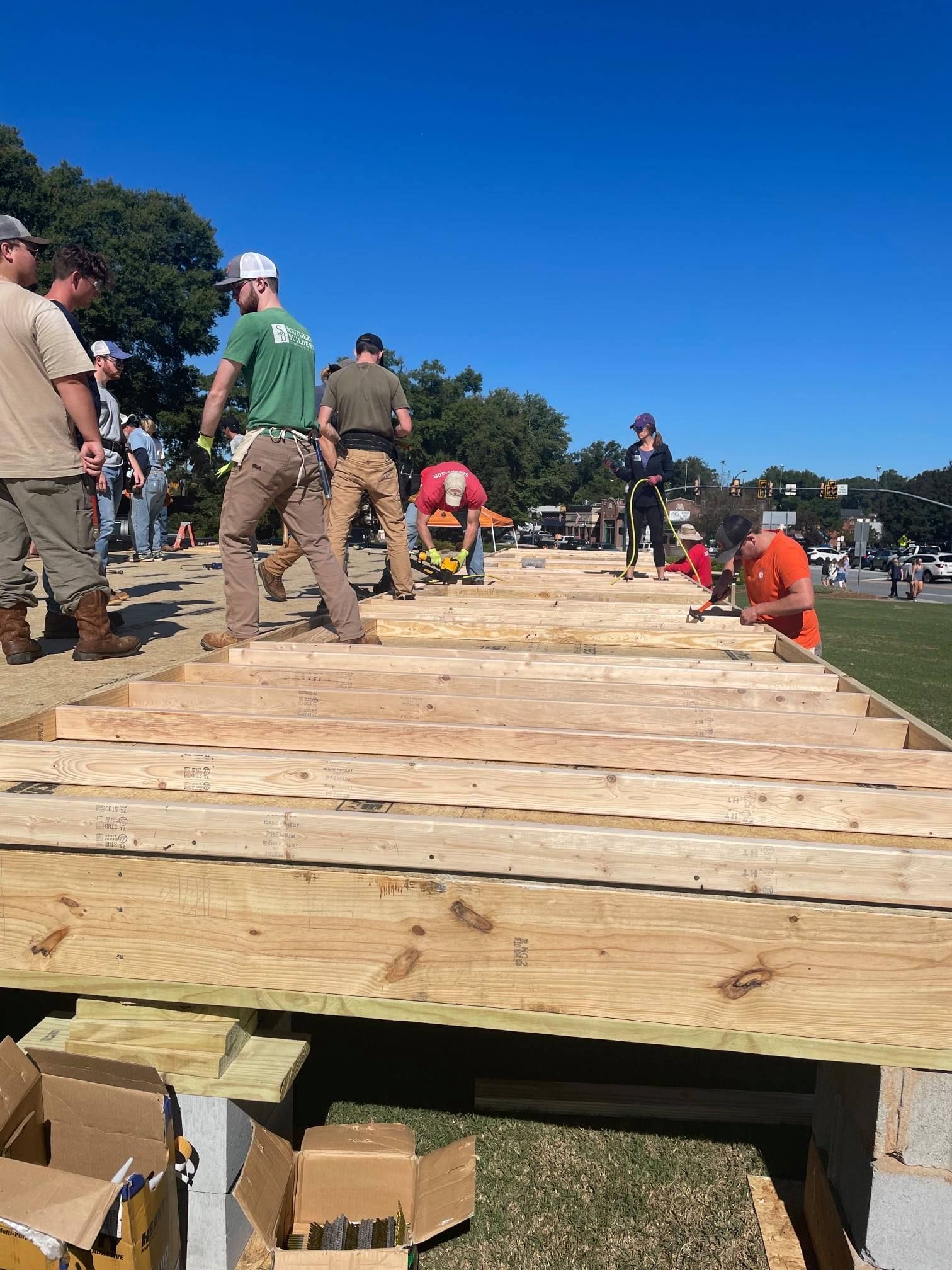 I have participated in acts of service in the past in the form of mission trips where I painted metal gates and house siding, but never have I swung a hammer or cut out window openings. Getting to experience the heavy-lifting that occurs at the beginning of a home build  makes me appreciate the family home I get to call mine. 
After only a short two hours, I got to be a part of turning a simple wood floor foundation into what looked like the start of a home with walls. From the beginning to the end of my volunteer shift, I was hands-on and felt like I was a part of a team. It seemed like I knew the people I was working with, even though I barely knew their names. I could sense that I was making a difference in a way that I have never felt before. Who knew that hammering a nail could feel so fulfilling?
I found myself enjoying the moment and checking the time in hopes that there was plenty left before my shift came to an end. It was an informative experience to learn the process of how to put up walls and take precise measurements because every little detail matters. What was even more fascinating, was how fast I found myself and everyone around me catching on to what needed to be done so quickly. Besides being a support system in lifting and positioning the walls into place, I helped nail down wood support beams and outline window openings with flashing tape to prevent moisture intrusion, needing less instruction as time went by on how to complete each task.
It was neat to see the Habitat staff and volunteers including all of the student participants in every aspect of the build. They trusted each individual's capabilities in completing construction tasks that they likely have never performed, which I believe gave us all the confidence to pursue it without hesitation. Everyone was up for the challenge and it proved rewarding towards the build's productivity. It was evident that the team effort everyone selflessly put forth was with genuine intentions to provide a home for a family in need that will change their life for the better.
My small contribution of hammering some nails and outlining windows doesn't seem like much, but that work combined with hundreds of other volunteers' work over 10 days will forever be in the history of someone's home someday, and that is pretty dang cool. You can show love in many ways, and now I know firsthand that building truly is one of them.