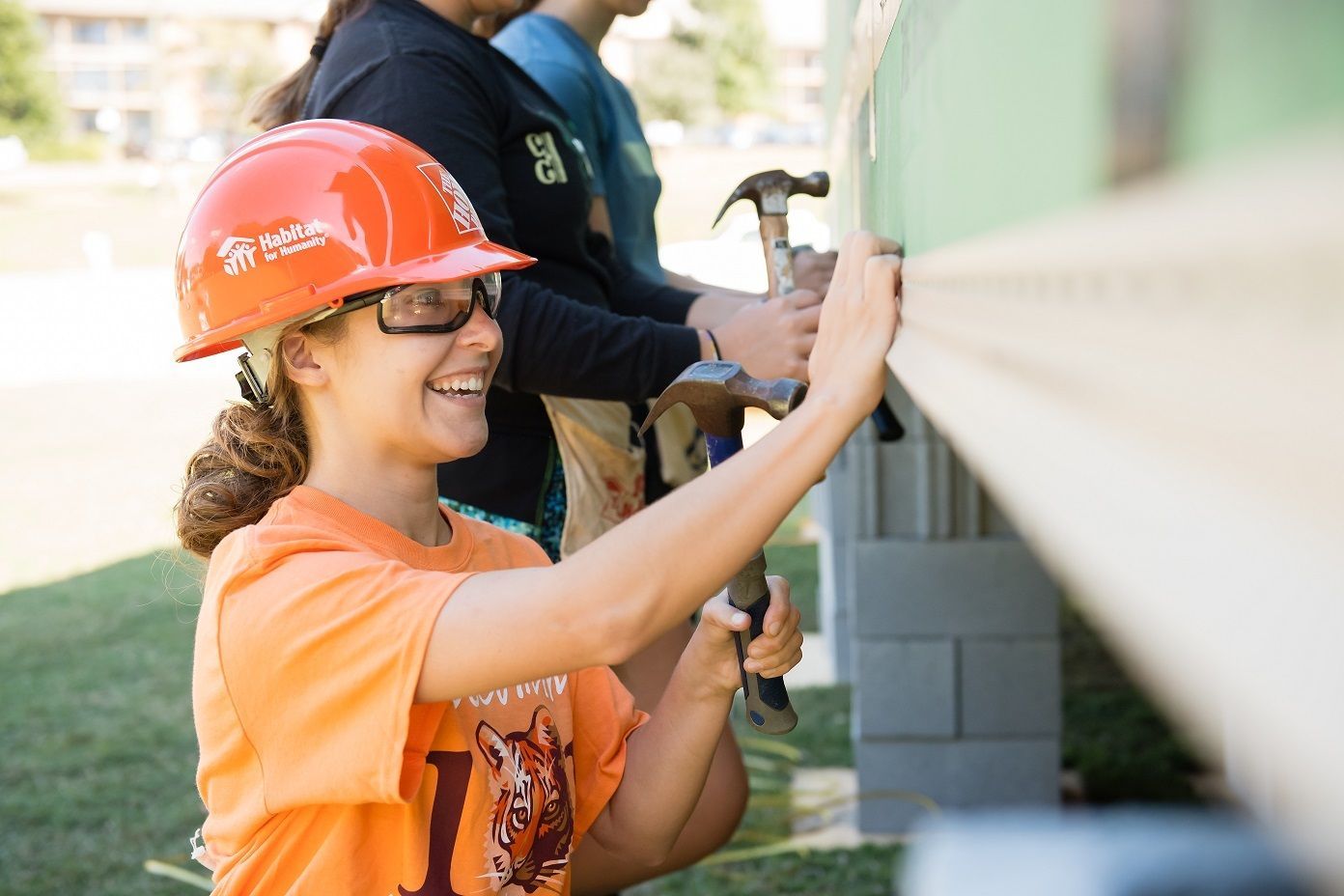 "I didn't realize how passionate and committed everybody was to this club. It's a pretty big deal and it's a big task," said Pickens County Habitat for Humanity at Clemson University (Campus Chapter) President, Joey DeSimone.
As a junior biology major from New Jersey, DeSimone first became involved with the Campus Chapter during his spring break freshman year. Ever since this experience, he has developed a passion for serving others, and more importantly, a love for the Clemson community of volunteers and homeowners.
The Campus Chapter is one of many college campus unincorporated, student-run, and student-led organizations that partners with a local Habitat affiliate to build houses, fundraise, advocate for, and educate the community on affordable housing needs in the area. Nationwide, each university chapter has a faculty advisor and an executive board of 10 members, including the president, vice president, secretary, treasurer, and chairs of committees.
As a large, well-known university, Clemson helps amplify the voice of Pickens County Habitat for Humanity. Clemson supports PCHFH by spreading the word to alumni, students, faculty, and staff, and brings attention to the dire issue of affordable housing in Upstate South Carolina.
"I don't think a lot of people think about [the issue of affordable housing]. They see Clemson as a school town, but people live here, they have jobs, they have families," said DeSimone.
It is easy to get caught up in the hustle and bustle of Tigertown, with football, classes, and the social life of a college student, but the Campus Chapter helps remind students of the importance of giving back and investing in the community that fosters such a positive college experience. The Campus Chapter offers students an outlet to slow down, learn about important, real-world issues, and appreciate the small things in life, all while working with a fun and supportive group of other Clemson student volunteers.
"I really like when we can go out to the builds and everybody is just in a good mood," said DeSimone. "It's a big thing to build a house, but when everyone is in good spirits and we realize that we're all working together for the same goal, that's my favorite part."
The unity of the Campus Chapter is a major factor in their success with the annual Homecoming Build. Students work together all year to raise money for materials needed to build the house, and spend 10 days in October working from scratch to build the frame, floors, walls, and windows of a house on Bowman Field.
"Any moment that I wasn't in class, I was on Bowman and I absolutely loved it," said Advocacy Chair, Matt Grant. "It's such a hectic, crazy environment, but it's just so fun!"
Grant is a junior construction science and management major from Savannah, Georgia, and the Campus Chapter has greatly shaped his college and professional career. When he first came to Clemson as a management major in 2018, he had the opportunity to partake in community service for his introductory business class, which was his first experience with the Homecoming Build. Grant instantly felt like he was doing real work with a purpose and making an impact. That one week of experience was enough to prompt Grant's decision to switch majors and pursue a life of service through building and construction.
"I'm a big believer that everybody should spend some time serving somebody, and I feel like when you do that, your perspective on everything changes," said Grant. "The opportunities, gifts, and talents that I've been given, I see those as coming with a responsibility to use those for good."
Grant has put his skills and capabilities as a builder to good use during the 2018, 2019, and 2020 Homecoming Builds. Recently, his role as advocacy chair on the Campus Chapter has pushed him outside of his comfort zone of the physical work of the builds, and placed more emphasis on advocating and raising money. He was involved with Act! Speak! Build! week in Spring 2021, when the Campus Chapter used social media and hosted an in-person documentary viewing from Habitat for Humanity International to increase awareness among students of the need for affordable housing.
"It's a unique process," said Faculty Advisor, Bob Hogan. "The building is less of an issue in that, we've done it for 28 years, we know how to build it. More focus is actually placed on fundraising, so we can get materials and get ready to buy other materials, so that we can literally build the house."
Both Hogan and Grant have architecture and construction expertise through their degrees, careers and hands-on work with Habitat houses, so the behind-the-scenes organization and planning for the Homecoming Build is more of a challenge for them. Hogan explained that the Campus Chapter is the only university chapter that fundraises the full amount for the house, in addition to building the entire house with student volunteers, faculty, staff, and community volunteers.
Each year, the Campus Chapter aims to raise $100,000 to buy materials and help prepare for the Homecoming Build that fall. This is a large annual task for Clemson students to undertake, and Campus Chapter members are extremely grateful to PCHFH for their continued support throughout the process.
When asked what is special about PCHFH specifically, Grant believes it is the people who make the difference. "Jill, Rosey and all these people who have been doing it for their whole careers and are just so in love with the people of Pickens County and with serving people," he said.
It is no surprise that giving spirits and kind hearts are reflected in the students involved in the Campus Chapter, as well as in the staff members at PCHFH. This attitude toward service is what contributes to PCHFH's success in the Upstate and impacts the surrounding Clemson community.
"While we don't have a big population and we're not building a lot of houses, we feel like we can build two or three a year in Pickens County in terms of the resources that we have, and that's important," Hogan said. "If that goes away, that's three houses a year, three families that now aren't finding good shelter and a good home. We may be small, but I think we are impactful."
It is quite evident that the Upstate of South Carolina, and Pickens County specifically, has greatly benefited from this Habitat affiliate and their partnership with Clemson University. The large hearts of Clemson students and surrounding community members overcompensate for the small size of PCHFH as an organization. It is strong-willed and passionate volunteers who contribute to the growth of affordable housing and create a positive impact on low-income families in need of a safe, secure, and stable home.
The Campus Chapter is preparing for the 2021 Homecoming Build and a school year full of volunteering. To get involved, visit the Campus Chapter's Instagram page (@cu_habitat), Facebook page (@clemsonhabitat), or contact the club directly through TigerQuest.