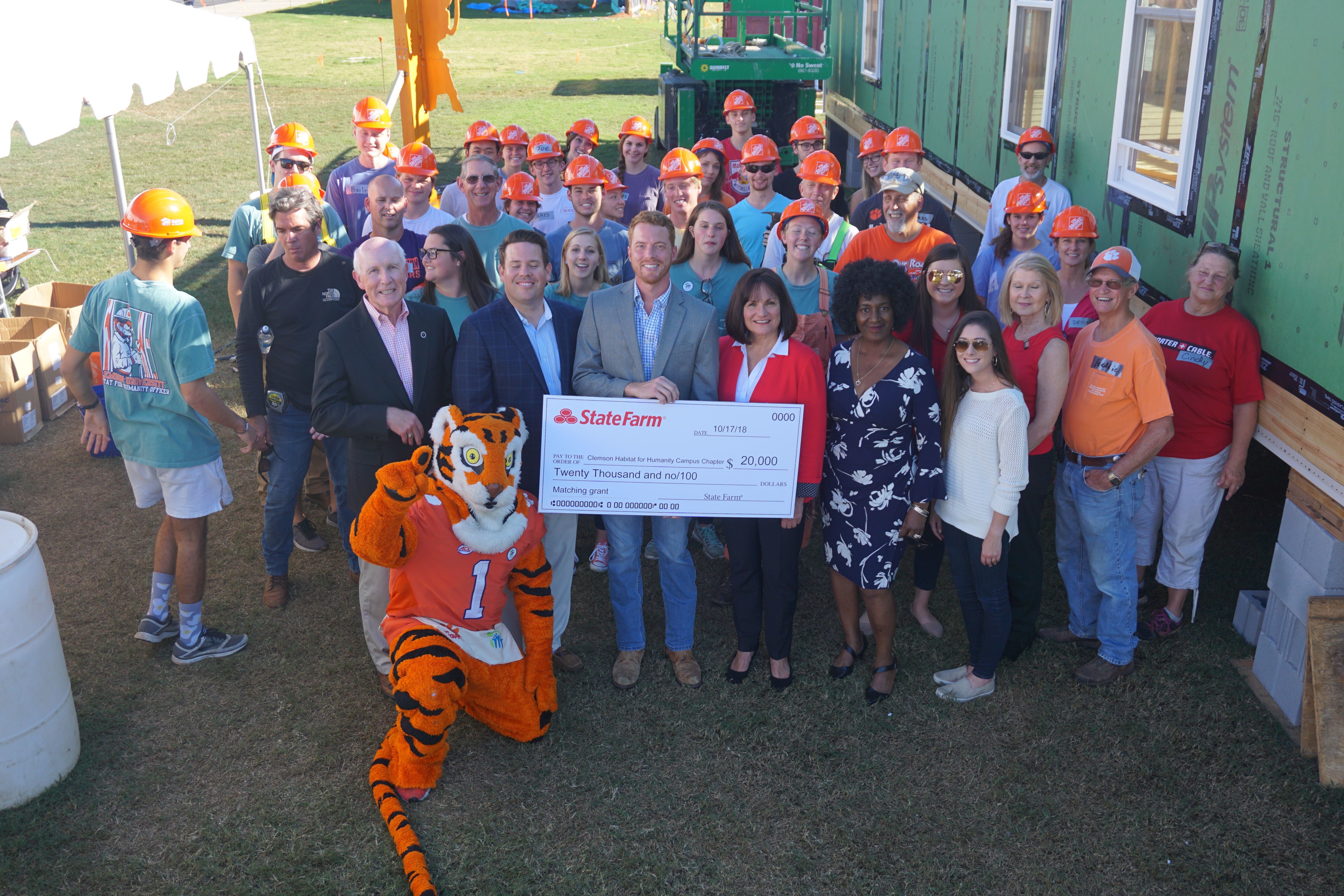 Pickens County Habitat for Humanity realized its early growth in capacity through the overwhelming support of individual donors and faith-based groups. Over the last decade, however, major corporations have increasingly made it a priority to recognize their social responsibility in the Pickens County community as well. Through the formation of corporate foundations and employee-volunteer engagement programs, more companies are taking action to make an impact in the neighborhoods where their employees work and live. Five companies have historically and consistently supported the mission of PCHFH through foundation grant funding. One such foundation is Publix Super Markets Charities (Publix Charities).
Publix Charities began its support of Habitat for Humanity more than 30 years ago with its first contribution to Habitat for Humanity of East Polk County in Winter Haven, Florida. Over the last six years, Publix Charities has donated more than $25 million to Habitat for Humanity affiliates and other nonprofit organizations who provide housing and shelter services in the states where Publix operates. 
PCHFH has received more than $25,000 in grant funding from Publix Charities since 2016 in support of several annual Homecoming Builds at Clemson University. Kelly Williams-Puccio, Publix Super Markets Charities Executive Director, said that one of the special things about helping to fund the annual Homecoming Build is the impact it has on the students as well as the five families who have been helped so far. 
"Supporting the Clemson University Homecoming Builds makes these contributions even more special to us as it also helps to build the next generation of community leaders doing good in their communities," she said. "We are so impressed with the students' desire to help others, especially during such a busy time in their lives." 
PCHFH regularly seeks funding partnerships with companies who value affordable housing, community service and employee engagement. As a result, Wells Fargo, Bank of America, Truist (formerly SunTrust), and State Farm have all supported PCHFH's mission over the last decade. Collectively, these organizations have contributed more than $100,000 toward building new, affordable homes in Pickens County. 
Pickens County Habitat for Humanity at Clemson University (Campus Chapter) has been the recipient of three $20,000 matching grants through the State Farm Campus Chapter Matching Grant program with Habitat for Humanity International. Campus Chapter students are responsible for matching the grant monies dollar-for-dollar through letter-writing campaigns and other fundraising activities. 
Similarly, a $50,000 gift from Michael Nieri of Great Southern Homes in 2021 was leveraged to raise an additional $27,000 with the help of PCHFH's  board of directors in honor of the 40th anniversary celebration. 
"I've watched the Habitat system work for many individuals and I have helped build a few homes," Nieri said. "As busy as we are now, it made more sense to donate money than build a home. Pickens Habitat being more rural seemed like my donation would go further."
Such fundraising opportunities have been especially helpful during the cash flow strain created by the COVID-19 pandemic, a challenge to nonprofit organizations many companies have recognized.  Corporations have the unique capability to make a large donation at the beginning of a fundraising campaign that can help motivate and inspire others to participate.
PCHFH is proud to partner with Publix Charities, Great Southern Homes, and other generous companies who choose to invest in local nonprofit organizations working to better the communities they serve and improve the lives of families in need. 
"A home often represents stability and independence in one's life. In what has already been a difficult year, there are far too many people in our country struggling with housing insecurity," said Williams-Puccio. "We remain committed to supporting partners like Pickens County Habitat for Humanity to help build hope in our communities." 
Do you own or work for a company that is willing to help PCHFH in its mission to create affordable homeownership opportunities for low-moderate income families? PCHFH relies on the community's support to build homes through financial donations, building supply donations, and volunteer involvement. Reach out to us today to discuss the many ways of partnership with our organization.