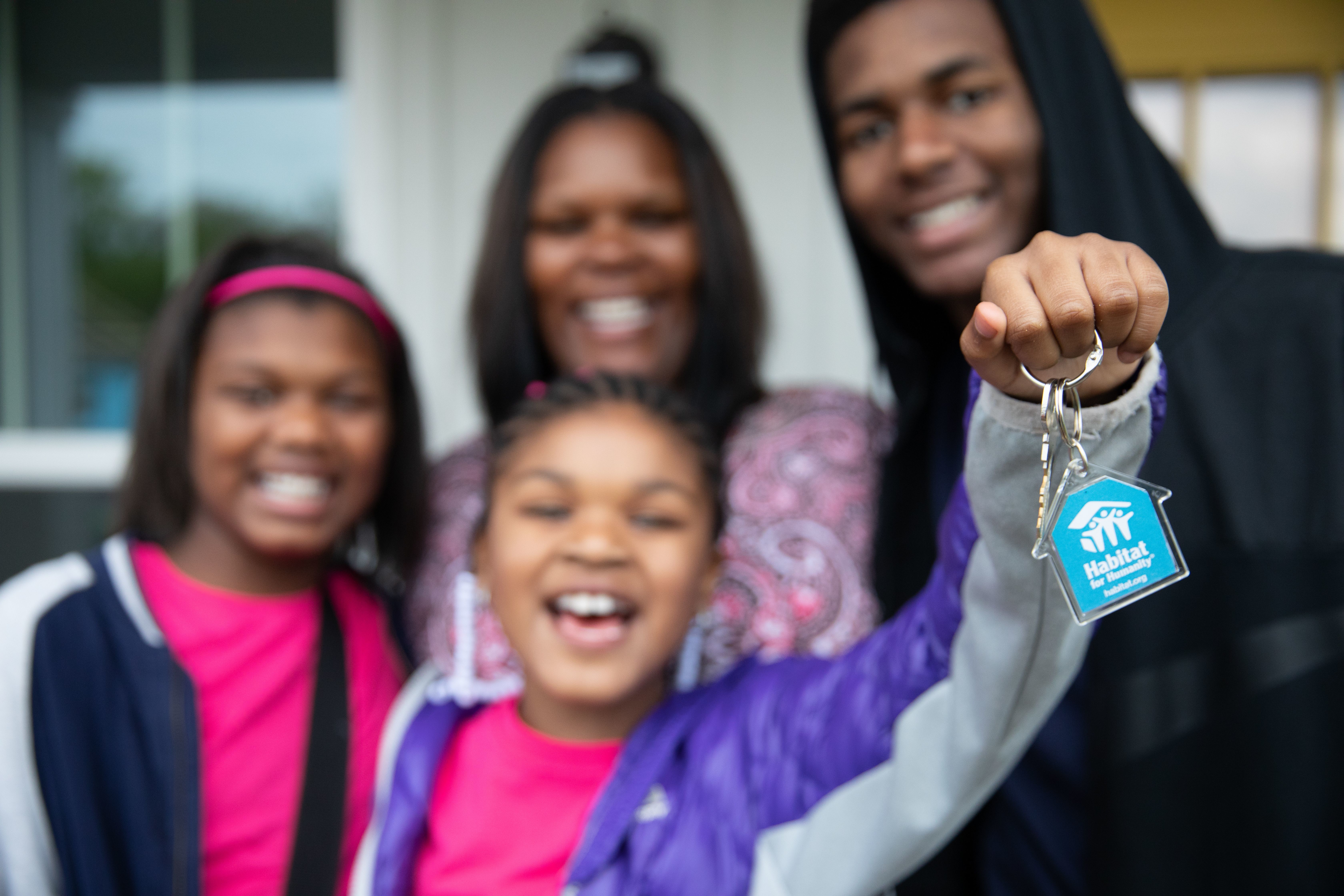 Pickens County Habitat for Humanity (PCHFH) homeowner Rachel Galloway, who recently paid off her mortgage early, expressed that her journey with Habitat has been extremely rewarding. From application to her final mortgage payment – she encourages anyone considering applying for a Habitat home to "just go for it" because you never know how life-changing affordable housing could be. Over the past 40 years, the Pickens County Habitat for Humanity team has been able to laugh, cry, work, and celebrate alongside so many amazing families that have been able to achieve the accomplishment of affordable homeownership. Understanding the amount of work that goes into a build from start to finish really shines a light on how incredibly meaningful the experience is for all those involved. The process is intricate, challenging, and a testament to the strength and determination of the homeowners. 
Though PCHFH builds and closes on 3-4 houses each year, 40 years of builds started with just one home – let's take a deeper dive into what the process looks like to bring one individual's dream of stable and affordable housing to life.

Sitting down with Executive Director Jill Evans, we discussed from start to finish the process of homeownership through Pickens County Habitat for Humanity. The first step in the process is an applicant filling out an application packet that requires a collection of documents, tax returns, income information, a description of their current housing situation and why they are in need of a Habitat home. 
This information is then reviewed by Evans using a mandatory income guideline scale provided by the South Carolina Housing Authority to see if the individual qualifies for a Habitat home. PCHFH partners with families who earn 45-80% of the median area income for the county. Assuming the income requirements are met, the next step is to pull a credit report for review, which is a less stringent process than for a typical homeowner. The credit requirement is that the middle score of a tri-report system needs to be a minimum of 575.
The Homeowner Selection committee begins their involvement in the process once it has been verified that the potential homeowner meets both the income and credit score criteria. This committee is made up of volunteers who are not only PCHFH board members but other community members. The committee then visits the current residence of the applicant to evaluate their need for a new home. Reasons the committee could deem a current living situation unfit include overcrowding, homelessness, structural issues, or more than 30% of income being allocated for housing. During this evaluation process, the committee also interviews the applicant to determine if they would make a good partner, due to the importance of homeowner involvement and sweat-equity during the building process. 
The minimum requirement for a single adult applicant is 200 sweat-equity hours, and for a couple, the requirement is raised to 300 hours. These hours are achieved by helping to construct PCHFH homes including the future homeowner's own home and by completing homeownership education classes focused on maintenance and financial literacy. Sweat-equity is implemented in part to replace a typical cash down payment, which is not feasible for many Habitat home applicants; however, the biggest reason for sweat-equity is the educational aspect. Learning basic construction often comes in handy for homeowners. It can save them money by avoiding paying labor costs if a minor repair is needed on the house down the road. The required financial literacy courses are an important transition for low-moderate income partnering families into permanent stability. The helpful tips that these classes provide assist families in making fiscally responsible decisions ahead of and during their homeownership journey. The applicant's commitment to these education and sweat-equity requirements is a strong testament to how valuable affordable housing is to those in need. 
Once the Homeowner Selection Committee has completed their evaluation and interview, the potential homeowner then provides documentation to get a pre-qualification on a loan with Affiliate Mortgage services, a lender that works exclusively with Habitat for Humanity applicants. Affiliate Mortgage Services then goes through an extensive process and comes back to PCHFH with their loan offer if the applicant is approved. 
 After all of these administrative needs have been met, the actual building and sweat-equity begins. According to Rachel, it is important to pay attention to sweat-equity because you learn so much about being a homeowner through Habitat's programs
Once the house is built, the homeowner and PCHFH sit down for a legal closing – a culmination of hard work, sweat, and tears. The homeowner signs a mortgage and a note. The note details an interest-free cost of materials and land, which the homeowner agrees to pay back over the course of 30-35 years. The lack of interest payments is what makes Habitat housing affordable, as opposed to a traditional lender. 
Some PCHFH homeowners are able to pay off their affordable mortgages early. Over the last year, six homeowners paid off early – some as early as four years! Such incidents are joyous occasions that exhibit the pride of homeownership, and PCHFH celebrates with these families who now truly have forever homes. 
Over the course of 40 years, PCHFH has constructed or renovated 114 homes. According to Jill Evans, the most rewarding part of the homeownership journey is watching the excitement of an applicant getting approved, overcoming adversity during sweat-equity, and making it to the Dedication celebration. Volunteers and community members are present, and it is often a very emotional experience. The culmination of one Habitat home being finished can often create ripples that positively affect generations to come. Four decades of Pickens County Habitat for Humanity is a great accomplishment, and it is even more rewarding to celebrate when you understand the work it takes for just one build.

To apply for homeownership, call the PCHFH office (864) 878-6374