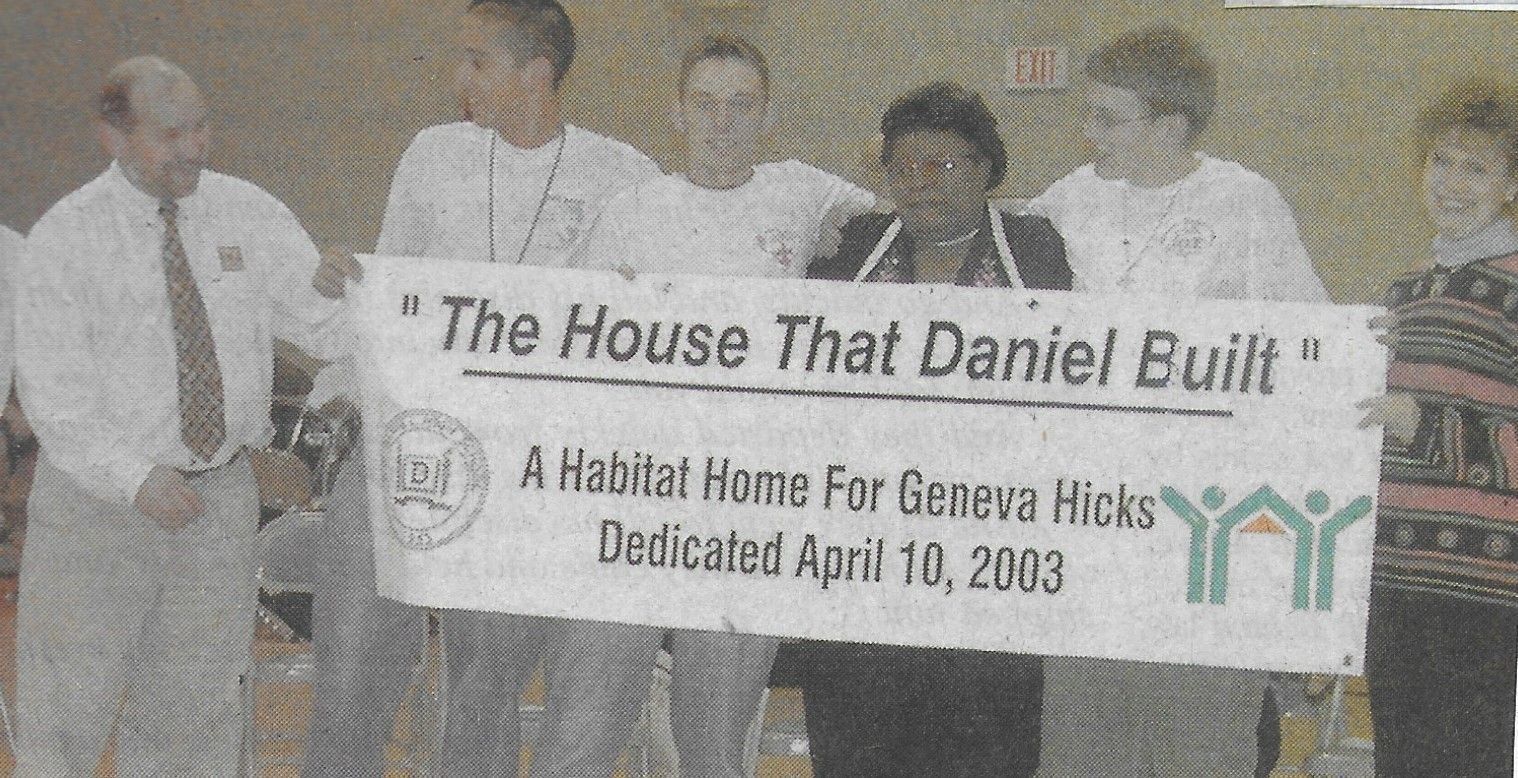 When Jill Evans, Executive Director of Pickens County Habitat for Humanity, thinks of the epitome of a Habitat build, she pictures the house that D.W. Daniel High School built in 2003.
The partnership with Daniel High School began through a campaign in the Habitat for Humanity International Youth Program called Habitat Youth BUILD. This program offered high school students interested in volunteering with Habitat for Humanity an opportunity to work with the nonprofit. 
PCHFH's Youth BUILD was headed up by former board member and Pickens County Habitat for Humanity at Clemson University advisor the Rev. Chris Heavner who had connections with Daniel High School staff members. He facilitated conversations between faculty and staff to begin the project. Heavner was instrumental in involving youth in PCHFH's work beginning nearly 30 years ago with the formation of the Campus Chapter at Clemson University. His passion for affordable housing and his involvement in youth activities made him the perfect advisor for the Daniel High School Build.
"This project started and ended well. Every time you went onto the building site, you felt like you were with family," Evans said. "Students and parents alike joined our volunteers to build this house and change someone's life that they loved." 
The way the build worked out was "providential," as Evans put it. The applicant selected for the house before PCHFH decided to partner with Daniel High School was Geneva Hicks, a retired teacher's assistant who had worked at Clemson Elementary School for 25 years. All of the Daniel High School students who would eventually build her home were taught by Hicks in their kindergarten classroom! 
"I vividly remember going to the school and doing a presentation on the whole process, which of course, included information on the homeowner," Evans said. "When I announced who the homeowner was, all of the students' jaws were on the ground because they had such fond memories of her and were excited to be able to give back to someone they liked so much."
When asked about her Habitat house, Hicks described it as "a blessing." Hicks had gone to a church event at Mount Tabor Baptist Church in Clemson to learn about the PCHFH homeownership program and decided to fill out an application on the spot. Little did she know, a few weeks later, she would be receiving a call from Evans delivering her approval to become a Habitat homeowner.
"You know, these kids that I had in kindergarten were the ones working on my house. It was just wonderful," Hicks said. "Of course, I helped them a lot back then, and they turned right back around to help me when I needed it."
Because of safety age requirements set forth by Habitat for Humanity International, only students age 16 or older could work on the house. Throughout the fall of 2003, students in the junior and senior classes at Daniel High School made their way over to the build site every Saturday for a year for student workdays. The students assisted with hanging drywall, framing rooms, laying foundational structure, laying flooring, and even fundraising through bake sales and car washes. 
During the week, Hicks credits the construction to PCHFH's "Tuesday/Thursday" volunteer crew, a group of retired men and women, who continued the project while the students were in school. They worked from 9am-1pm every Tuesday and Thursday. Hicks emphasized the importance of this crew because they were able to focus on tasks that students ages 18 and under were not allowed to do, including using power tools. 
"Scheduling was the hardest part about this build. We had to ensure that no power tools were present when students younger than 18 were on the site. So, we had to plan accordingly and schedule to ensure we were getting everything done. But in terms of hiccups," Evans said, "it was a tiny problem to have. Everything went so smoothly otherwise." 
Once Hicks' house was finished, insurance was settled, and the home was officially presented to Hicks in a dedication ceremony, she had a pizza party for all of her students that helped build the house to celebrate the end of the project.
"I wanted to take the time to celebrate my house with my students because they played such a huge role in getting my house built," said Hicks. "I was so grateful for Habitat and everyone that helped me with my house."
A Habitat home is a blessing Hicks encourages everyone to apply for. As a single woman without kids, Hicks thought she would be the last person to receive a call from Evans with news that she was approved for a Habitat House. 
"If people are interested, they should apply [for a Habitat House]. I never thought I would get a house. But, I knew the worst thing they could tell me was no," said Hicks. "Having a roof over my head has added so much security in my life. I think everyone should apply if they are thinking about it."