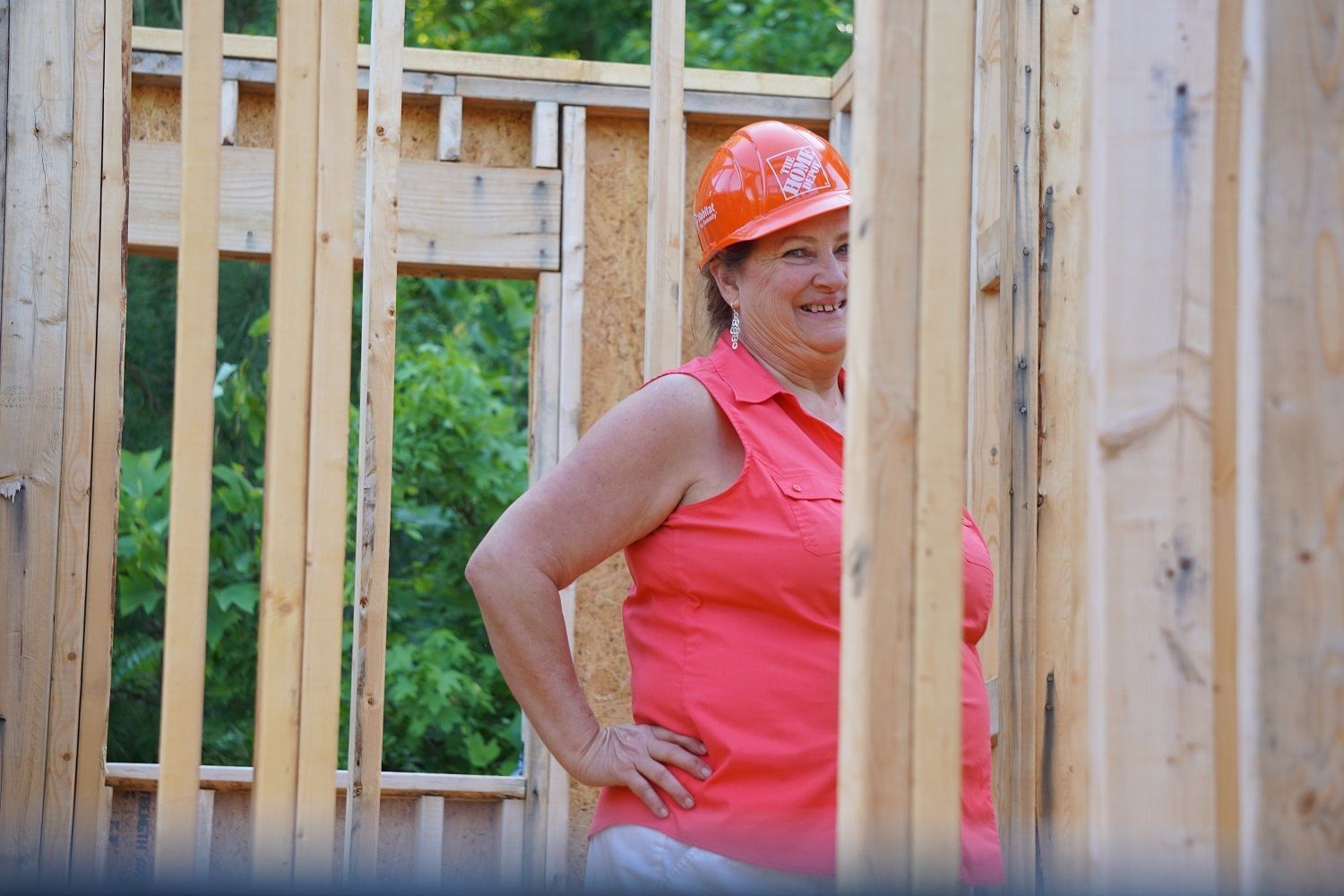 Cindy Sanders, a former volunteer, construction coordinator and executive director, had quite a journey to her involvement with Pickens County Habitat for Humanity. She moved to the area in 2002 to help take care of her mother who was battling Alzheimer's and built a home for her family with the help of her five brothers, all of whom were in construction.
"It was my first building venture," Sanders says, "a big crazy house with two apartments, one meant for my parents and the other for our kids one day."
Soon after moving into the home, her father passed away unexpectedly, and seven months later, her mother followed.
"We had been here about three years at that point, and even though I had a church, I hurried there then hurried home to take care of my mother. I hadn't met many people," she said.
Looking for somewhere to get involved, Cindy heard that her church was participating in a Habitat build that was part of the Collegiate Challenge time, an alternative school break volunteer opportunity for high school and college students. One morning, she went to participate and ended up spending the next three weeks working on the projects.
"It was wonderful," she said. "I spent the whole week with those kids who gave up their spring break to come and work on the project."

She continued to come back to the project in the following weeks and noticed something odd. "They kept asking me to do these strange things like finishing out a porch detail or an odd trim," she said. There were projects that Sanders had no previous experience in, making her wonder why she was being selected to complete the task.
"I noticed that our construction coordinator would have people ride around with him for a few days and then, you wouldn't see them anymore," Sanders recounts. "As it turns out, they were trying me out for a job I didn't even know there was!"
Cindy Sanders at the 2011 Homecoming Build
Sanders became the construction coordinator for PCHFH shortly after. Overall, she worked with PCHFH for more than 12 years, serving as construction coordinator and executive director, spending a few years doing both jobs simultaneously.
One of her favorite memories about her time with PCHFH is participating in the Homecoming builds at Clemson University – coordinating a total of 13 projects.
"It was always fun and one of my absolute favorite times of the year, working with so many people from so many departments and seeing them all come together to complete the project," she said.
Something that Sanders really loves about working with Habitat for Humanity is that it is "a hand up, not a hand-out." She believes the educational component that is included in becoming a homeowner, participating in other builds and learning fiscal responsibility, is what gives homeowners the ability to make changes in their lives. "Habitat teaches that people do care about you for no other reason than it is the right thing to do. Handing them the keys is the smallest part."