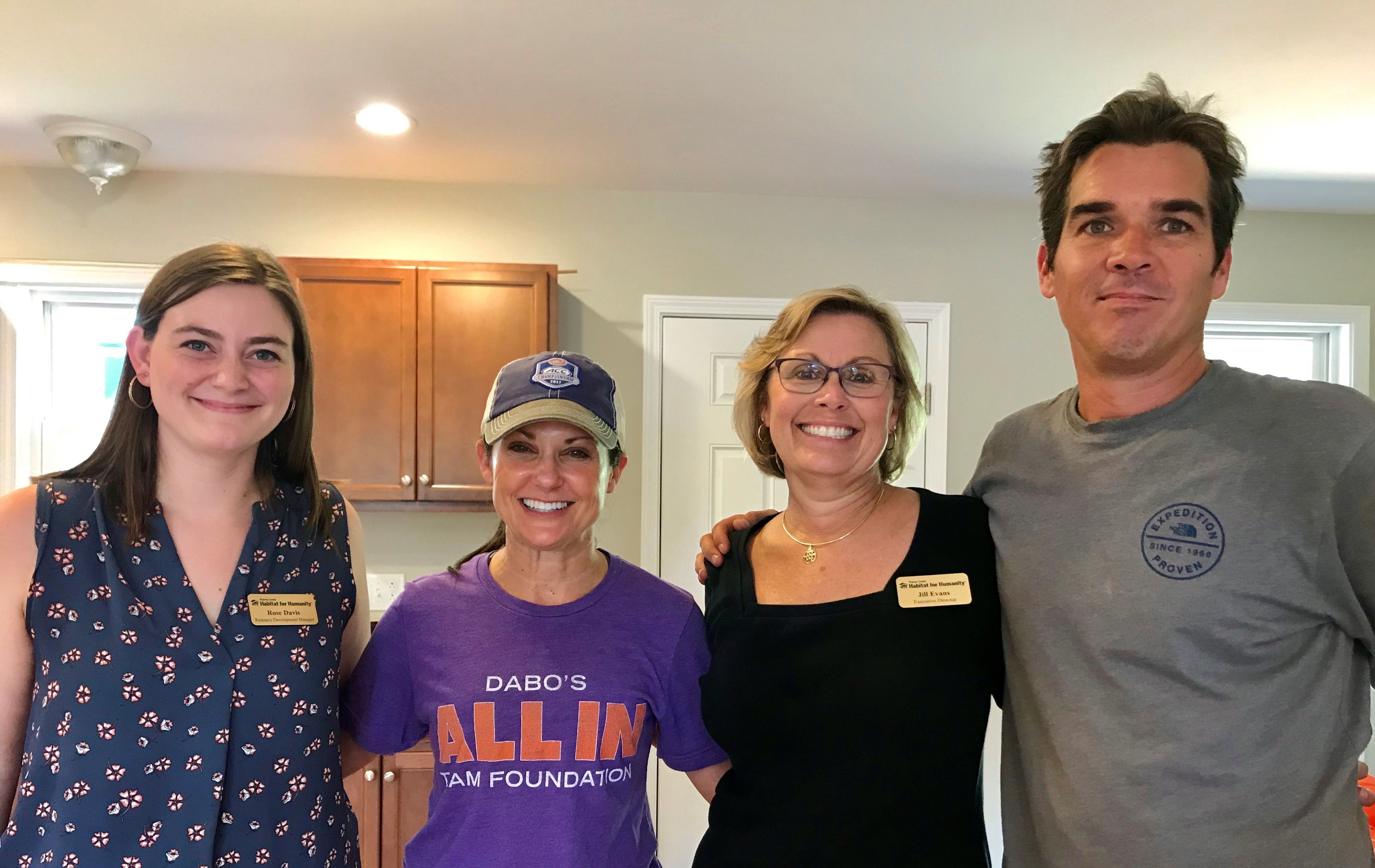 Dabo Swinney's All In Team Foundation has remained a dedicated partner with Pickens County Habitat for Humanity for nearly five years. Founded in 2009, the Foundation's mission is to focus on health and education issues across the state of South Carolina to ultimately change people's lives and help the community. Their main areas of focus have been breast cancer research, reducing addiction through Greenville's The Family Effect, and the ClemsonLIFE program.
The Foundation also has a grant program that provides local organizations and nonprofits within the realms of health and education the opportunity to receive funding every year for their projects or operational needs. PCHFH has received more than $100,000 through the Foundation's grant program since 2016 to support various home building projects. 
"What I find so special about the Foundation is that … we really try to spread the money as much as we can," said Lexie Vick, the Foundation's marketing and communications coordinator. "So we have donated a little bit here, a little bit there, to as many organizations as we can that kind of align with our mission." 
In 2018, curiosity arose within the Foundation's grant committee to find out, how much does an entire Habitat house cost? The committee decided to make a generous contribution to PCHFH to go a step further in supporting the affiliate's mission, and awarded $72,000 to fully fund a four-bedroom, two-bathroom home in Liberty. 
"We were feeling very blessed that year, and we were like, you know what, we would love to build an entire house!" said Kathleen Swinney, vice chairperson of Dabo's All In Team Foundation. "To see it come to fruition and the family move-in, it was really special for all of us. It really touched our hearts."
The house was completed in Fall 2019 for a family of six who later celebrated their move-in at a dedication ceremony in March 2020. The $72,000 funding remains the largest grant PCHFH has ever been awarded. Swinney shared that Dabo's All In Team Foundation intends to continue partnering with PCHFH for future projects and hopes to potentially fully fund another home someday.
To raise funds for their grant program, the Foundation hosts events for the community to participate in. This year, the Foundation is thrilled to hold their annual All In Ball in a hybrid capacity in mid-May. To abide by COVID-19 regulations, the Foundation has reduced the number of in-person attendees to 400 (as opposed to 1,000 or more in previous years), and they will offer a virtual option for those who cannot attend in-person. The Foundation also hopes to host their annual Ladies Clinic in July to raise money for breast cancer research, technology, and prevention within the state of South Carolina.
The Foundation's passion for helping others goes hand-in-hand with PCHFH's 40th anniversary theme, "Built With Love." Swinney believes, "If everyone could just put forth a little bit of love into helping other people, it could really change the world."
The All In Team Foundation is certainly a community leader in their efforts to change people's lives for the better, and PCHFH is thankful for their ongoing partnership and commitment to their mission and the families that they serve.
Visit Dabo's All In Team Foundation's website