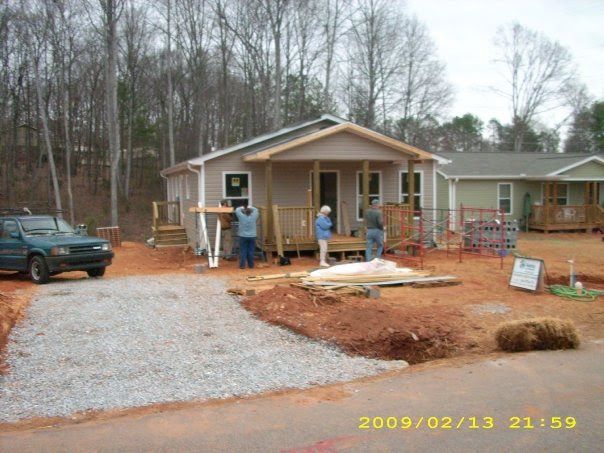 The 2009 Clemson University Homecoming Build brought Rebecca Harper more than just ownership of a new home, it brought her family back together.
As a single mother of two, Harper benefited greatly from the opportunistic future that came with the completion of her Pickens County Habitat for Humanity home. Before applying for homeownership, Harper was working for the Department of Social Services and living with her mother in a small, three-bedroom house.
"I knew I couldn't give my boys, at that time, the two-parent home, but I wanted them to have a home that they could grow up in, not just move from pillar to post," Harper said.
Prior to moving in with her mother in 2003, Harper was living in Columbia, S.C. and finalizing her divorce. Her husband, Chris, needed time to conquer his own battles of addiction, and she needed to find stability for herself and children. So, in the middle of her foreclosure in Columbia and second pregnancy, she decided to restart her life in the Upstate.
Harper desperately needed a house of her own, but could not afford one working as a state employee. She heard about Habitat through a work friend, but was actually turned down after her first application to the program. Even though she was on the upper-end of the income bracket for her area, she just barely missed the cutoff for homeownership approval. Luckily, however, her Habitat story did not end here.
Harper's situation was later reassessed through a home visit, where it was made quite evident that her living arrangement was inadequate. Eventually, she qualified for a Habitat home in Pickens County and was one step closer to the life she always dreamed of providing her boys.
"[Habitat] gave us a stable home to raise the boys, when I knew I couldn't have afforded one any other way. It gave us possibilities," she remarked.
Although an exciting time, the building process was not easy. Harper split her days working as a DSS employee, taking homeownership classes, building her house, volunteering on other homes in the area and taking care of two growing boys. She had more than a full plate, but understood the importance of putting in hours on the house. She related this process to her time in college as a student.
"When I first went to college, and my parents paid for me to go, I didn't have as much vested interest in it," she said. "When I decided to go back to school to finish my degree, I paid for the last two years of my school. It meant so much more to me to keep those grades up. I think the same applies for Habitat homes."
The process of obtaining homeownership through Habitat is much more involved than many might think. Habitat houses are not free. To qualify to purchase a Habitat house, homeowners must meet credit requirements, demonstrate ability to pay a mortgage, have a need, and be willing to complete sweat equity. The advantage for low-income applicants is a zero-interest home loan. The homeowner pays for their mortgage, taxes, and insurance.
"When you have to put sweat equity into it, when you have to put your time into it, I think it means more to you," Harper believes. "I think you have a stronger connection to it than if you just got handed a house."
Harper's older son, Alex, was five at the time of the build and shared her excitement for their new home. He loved exploring the nooks and crannies of the house and even managed to get in trouble a few times while playing on the jobsite.
"When we moved into the house, he was very excited," she remembered. "Alex would show everybody his room and he would tell everybody it was so great because he had two windows that he could crawl out of if he wanted to run away. And then, he proceeded to crawl out of one of them!"
Harper's investment in her future and commitment to providing her children a safe and comfortable home was evident in her Habitat story. She went to the jobsite every Saturday, brought coffee to the volunteers during the week and helped in any way that she could. While craftsmanship was not her specialty, Harper utilized her knowledge from working in social services to find future Habitat families. She visited PCHFH applicants in their existing homes, met the families and gathered information on whether or not they would be a good fit.
Harper's Habitat story comes full-circle with her newfound community of family and friends. Her next-door neighbor, Pam, owns the Homecoming Build house from the previous year and offered continued support throughout Harper's building and homeownership process. From helping to fix things around the house and working in the yard, Pam has been an integral part of Harper's journey to homeownership.
"She had two boys," Harper said, "so she was kind of able to mentor me a little bit, having my two boys, on what not to do."
Seven years after her divorce, Harper got back together with her ex-husband Chris, and they remarried. The two had their lives back on track and were able to provide the stable family home that Harper always dreamed of for her boys. With her mom only seven miles down the road, friends in the PCHFH community, and a complete family of four, Harper's story is a true testament to Habitat for Humanity's mission of bringing people together to build homes, communities and hope.
If you would like to learn more about Habitat homeownership and how to apply, please visit the Pickens County Habitat application webpage here: https://pickenshabitat.org/how-to-apply/