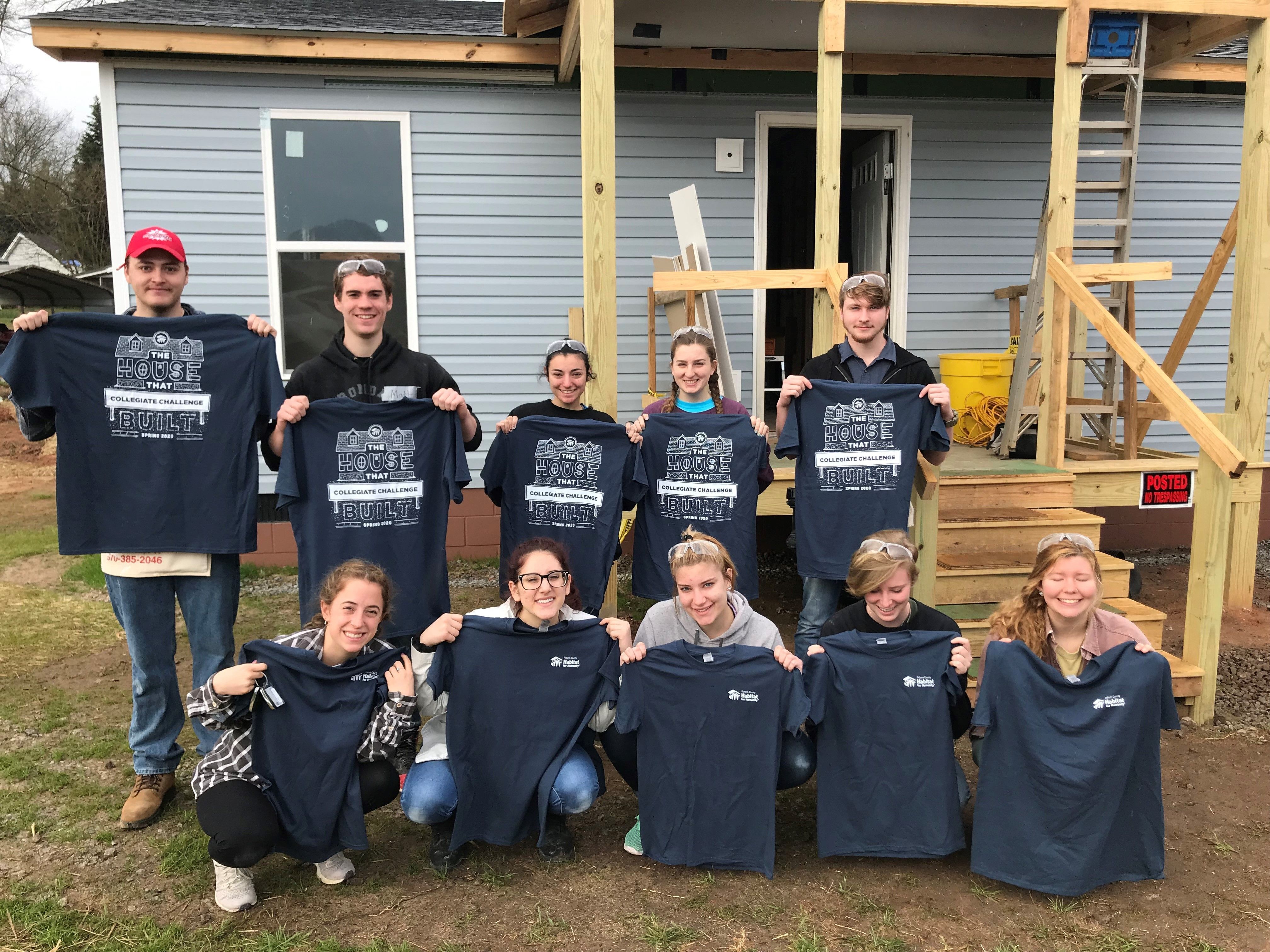 Each year, thousands of students from around the U.S. trade in their spring break of relaxation and partying for hard work. For these students, spring break means a trip to another part of the country to help build affordable housing for people in need. It is a week of "crazy, fun, organized chaos," as Jill Evans, Executive Director of Pickens County Habitat for Humanity describes it.
The Collegiate Challenge is a week-long program, run by Habitat for Humanity affiliates, for students to grow outside of their comfort zone while learning about life in a different place. The main goal of the program is for students to make their mark on a community and help out neighbors in need who live across the country. It is a great opportunity for homeowners and students to interact and develop a relationship and mutual respect for each other, while hopefully breaking down any northern, southern or social class stereotypes that may exist.
Every spring, PCHFH welcomes college students from another part of the country to get their hands dirty in the South Carolina red mud. These student volunteers are incredibly passionate about making a difference — they pay to travel, sleep on the floor of a church, and work on a house for seven to eight hours a day without even seeing the final result of their efforts.
Zoe Sarason, a student at Simmons University in Boston, participated in the PCHFH Collegiate Challenge in 2017 and has wonderful memories of her experience.
"We spent most of the day building, painting, and cleaning the home to get it ready for a new owner," she said. "A few times throughout the week we had the pleasure of meeting Habitat homeowners! One in particular I remember was a man named Ken Cothran. He is a blind painter and he creates the most beautiful art. Meeting him and seeing how Habitat has changed his life was truly life changing for myself and the girls on my team!"
Simmons University students hear Ken's story
PCHFH benefits greatly from the challenge because young students are able to do a lot of the heavy lifting that goes into each house. Many of the organization's volunteers are older and better at finishing work, so getting an energetic hand when it comes to front-end heavy lifting is a huge help.
Nick Forsythe, a former member of PCHFH at Clemson University (Campus Chapter) was a previous student intern who led several PCHFH Collegiate Challenges in the past and worked with student volunteers from around the country.
"I'll never forget the smiles and excitement these groups brought to our builds," Forsythe said. "The Collegiate Challenge was a great experience watching people grow in themselves while helping our local Pickens County community."
Nick Forsythe leads Collegiate Challenge students on site
 PCHFH typically hosts student volunteers from the north, midwest, and larger cities. This is usually the volunteers' first visit to rural South Carolina and they frequently have little knowledge of how to build a house. Despite prior warning, students often come unprepared for the weather and messy working conditions. Most students think that spending their spring break in South Carolina will be warm and sunny, but are often shocked to find that March in the Upstate can be quite cold!
Taylor Casey, a member of the Clemson University Campus Chapter, also encountered this dilemma while volunteering on a Collegiate Challenge in Dade City, Fla.
"It was freezing!" Casey remembered. "We all went to Walmart and bought sweatpants –– we were not prepared. We were all so cold!"
These factors, however, have little effect on the energy and positivity that each student brings to the job site. Regardless of the difficult working and living conditions throughout the week, Casey made the most of her experience and returned the following year to volunteer again.
"Before freshman year, I probably had never picked up a hammer," she mentioned. "By the end of my second year on the trip, they had deemed me the 'Chop Saw Queen.' I was in charge of using the chop saw and cutting all of the wood, so that was really exciting for me!"
Taylor Casey and other Clemson Habitat volunteers
The week-long experience builds newfound hard skills and self-confidence. By the end of the Collegiate Challenge, students feel proud of their physical contributions to the house and walk away with a sense of accomplishment and passion for philanthropic work.
"I think about my first trip a lot," Casey said. "There's one thing that stands out to me the most, [which is] a quote from one of the Dade City affiliate members, and they said 'Habitat is a hand up, not a hand out.' That has stuck with me for the past four years. I think that sums up exactly what Habitat is and what they stand for."
Casey plans to attend graduate school next year for Student Affairs and Higher Education and would love to continue working with Habitat. Whether she joins the office side of things or is still getting her hands dirty on the job site, Habitat has left a lasting impact on Casey's college experience and the organization will likely benefit from her giving spirit for many years to come.
Students often get involved with the Habitat affiliate of their university, in their hometown, or even become volunteers for another organization due to their newfound passion for nonprofit work. The Collegiate Challenge naturally develops groups of future volunteers, even after the week of spring break.
"I really hope a lot of seeds are planted during the Collegiate Challenge that bloom into volunteers and donors years down the road," Evans said.
The Collegiate Challenge embodies Habitat for Humanity's mission of bringing people together to build homes, communities and hope. After 40 years of PCHFH building with love, Evans believes that "We're all neighbors, and if we can lift someone else up, then we're also lifting ourselves up in the process."