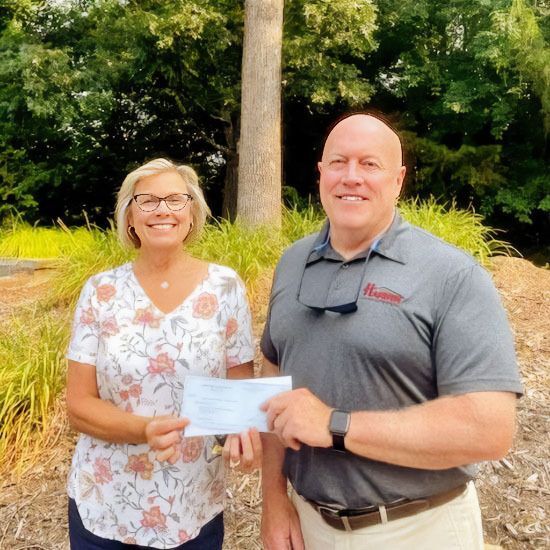 Harbin Lumber Company, founded in 1917 and currently in its fourth generation of family ownership, has been an integral part of Pickens County's heritage for years. Renowned as the go-to source for premium lumber and building materials, Harbin Lumber is set apart by their unwavering commitment to community service. In 2006, they took this commitment to new heights by establishing the Harbin Family Foundation, Inc. Through this foundation, Harbin Lumber has generously donated materials, extended support to local charities, and dedicated their time to community projects.
At the heart of Harbin's corporate philosophy lies a profound belief in giving back—a belief that has led to a remarkable partnership with Pickens County Habitat for Humanity (PCHFH). Over the years, Harbin Lumber Company has been an avid supporter of the Clemson Homecoming Build, an annual event that changes the lives of local families by providing them with affordable homeownership.
Executive Director Jill Evans has been with PCHFH for almost eighteen years and commented, "I honestly can't remember a time when Harbin Lumber Company wasn't part of our annual Clemson Homecoming Build. They have been a cornerstone donor of materials for double-digit years, and they also support the project financially. Their friendship to PCHFH has had a ripple effect in the lives of numerous partner families, empowering them through safe, stable, and affordable homes. Harbin's generosity translates to lives dramatically improved as generational cycles of poverty are shattered through homeownership."
According to Harbin Lumber Company's CEO, Chris Moon, "At Harbin Lumber Company, part of our culture is to give back to the communities we serve. We have been blessed to support several Habitat for Humanity chapters in our market including Pickens County Habitat for Humanity."
This partnership epitomizes the spirit of community collaboration, and its impact extends far beyond the construction site. It touches the lives and hearts of those who benefit from the generosity and dedication of Harbin Lumber Company.
"Being a Clemson Alum, it is always special to see the student involvement each year on Bowman field during Homecoming week," Mr. Moon added. "Pickens County Habitat certainly does great work for the local families, but also teaches valuable lessons to the students that help with the build."
Pickens County Habitat for Humanity is profoundly grateful to Harbin Lumber Company for their enduring partnership and unwavering dedication to the Habitat mission. Their generosity has been a cornerstone of our efforts, and we are proud to stand side by side with Harbin as we launch the 2023 Homecoming Build. Thank you to all those at Harbin Lumber Company for your continued partnership and the bright future it promises for those we serve.