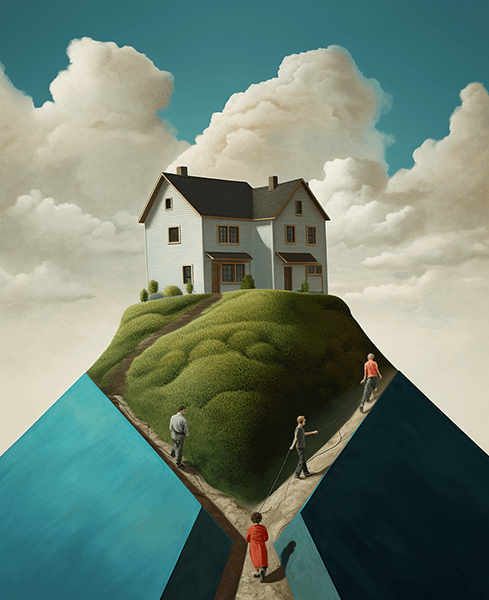 The journey toward homeownership is often a complex puzzle of opportunity and finances, but for many families in Pickens County, it's a dream they fear they'll never achieve. With a median home listing price rising nearly 8% from June of 2022 to today, the aspiration of an affordable home has become even further from the reach of hardworking local families.
In the mortgage industry, most companies adhere to an affordability guideline limiting home purchases to no more than 3 times the borrower's yearly salary. In Pickens County, the per capita income remains close to $30,000. Following the 3x rule, that means a single-income household would only accommodate a home valued up to $90,000. With the median home listing price now at $329,900, a home in that price range is like a unicorn, so rare as to be believed impossible, leaving many two-income households priced out of the market.
This is where Pickens County Habitat for Humanity steps in. We work as a catalyst, constructing affordable workforce housing and helping our community stand strong in the face of rising costs. Imagine this: a $329,900 home, a $10,000 down payment, and a 7.5% interest rate. This scenario would result in a monthly payment of over $2,300. That's an unreasonable cost for local families already paying increased costs for utilities, food, and insurance. At Pickens County Habitat, we believe homeownership should never demand trade-offs with daily necessities.
We also believe that communities are made stronger when we work together. That's why we stand in partnership with potential homeowners, rather than offering them a handout. Our homeowner partners are given a hand up instead, contributing to their homes, working alongside volunteers and staff to reduce construction costs.
At the end of the process, they are rewarded with an affordable mortgage, their lowered payment made possible by the absence of interest, not by cutting corners. Even without consideration for the reduced costs associated with the construction process, an interest-free mortgage can reduce a payment significantly—that $2,300 monthly payment would drop to only $916.
At Pickens County Habitat for Humanity, we know that families don't have to suffer under the burden of astronomical housing costs and that communities don't have to lose their workforce because of unattainable housing. That's why we work hard every day, building new homes across Pickens County and advocating for affordable housing across the state and nation. We hope you'll join us in this transformative work as we forge a world where every family can bask in the warmth of a secure and affordable home.