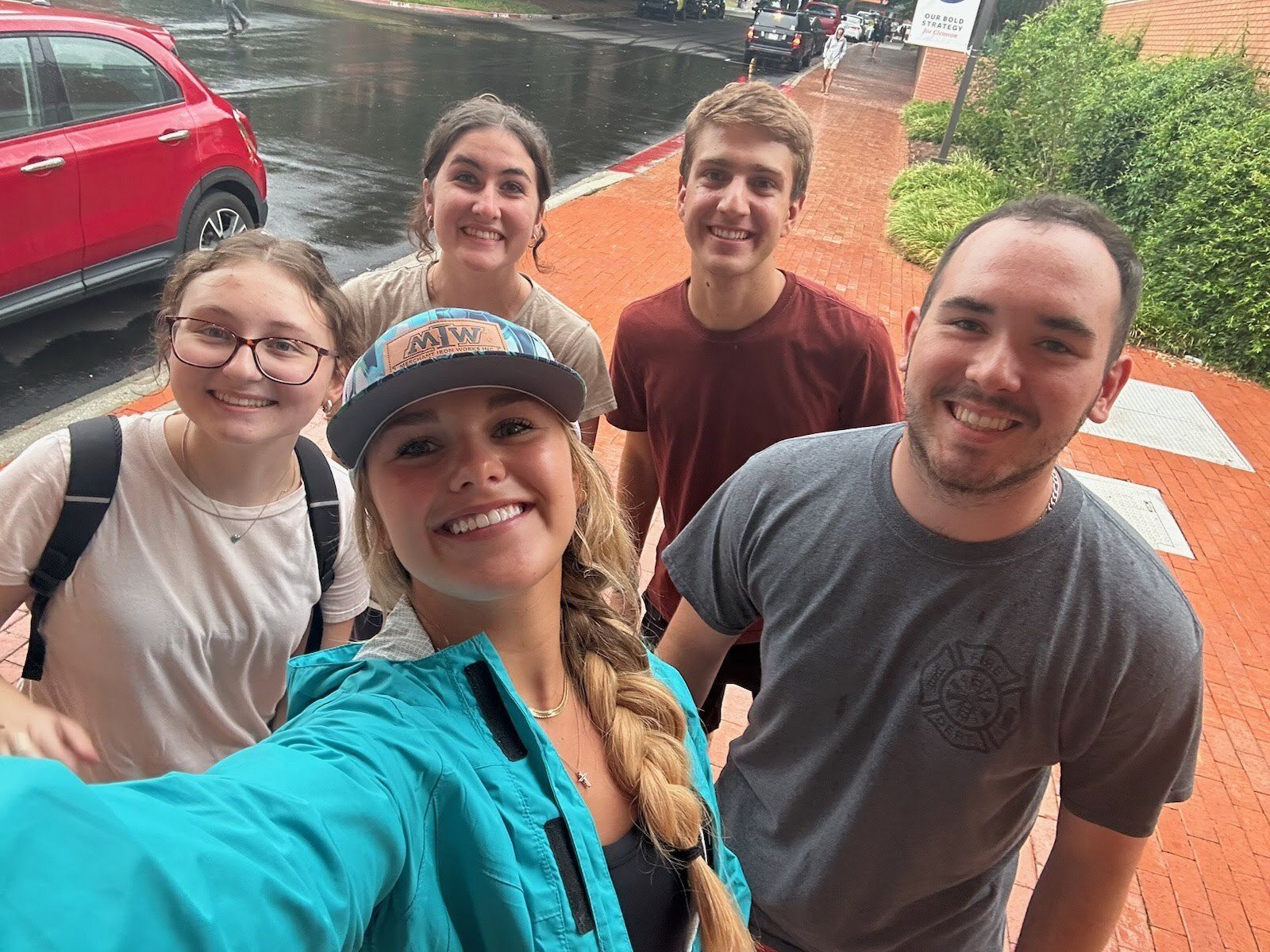 The Fall semester has commenced and with it comes a new wave of energy on Clemson's campus. The student leaders of the 2023-2024 Pickens County Habitat for Humanity at Clemson University (Campus Chapter) are excited to continue the organization's work constructing affordable housing for families in need. Some of the leaders are returning to familiar roles, while others are taking on new challenges. Together, they are committed to making a difference in their community.
The chapter's president, Katherine Harland, is a senior majoring in architecture, with minor concentrations in mathematical sciences and music. She is passionate about affordable housing and believes that everyone deserves a safe and secure place to live.
Katherine got her start with the Campus Chapter during her first year at college. "I entered my freshman year during the height of the pandemic," she explained, "and not a lot of clubs were operating. That was the year that the Homecoming house was constructed on its permanent site, rather than on Bowman Field. I heard about the build and decided to participate. That was one of the first opportunities where I really got to do something hands-on with Clemson University and it was very exciting for me to serve. As an architecture major," she added, "the work was right up my alley."
When asked about the decision to take on such a critical leadership role, she replied, "It was a random turn of events, but that first experience and engagement during that very strange time made an impact and inspired me. I decided I wanted to get more involved, and then one thing led to another and here we are."
The chapter's 2023 Homecoming Coordinator, Will Bavin, will graduate in 2025 with a Business Management degree. When Will arrived at Clemson, he intentionally sought out the Campus Chapter. "I actually looked for Habitat for Humanity at Tiger Prowl," he shared. "I was in Boy Scouts when I was younger and I did a lot of construction-based community service, so I knew what Habitat was about. I wanted to do something familiar and try to get involved with the community."
Eager to put his skills to use in building homes, he joined up. "I did the Homecoming Build my freshman year, and now I'm back," he said. "I thought that since I had experience, I could bring a lot to the organization. I was inspired by last year's coordination team and so I decided to take on the role for 2023."
Will has been hard at work on the 2023 Homecoming Build since March, when the group first learned the dates of this year's event. "We'll be working on the house starting September 27, which is early," he explained. "It meant we had to do more over the summer. Right now, we're transitioning to campus and starting to work with the entire leadership team, which is great, but we're also working to recruit new members to the club, so we've got to work even harder to keep everything flowing."
Zane Andrews, the chapter's 2023 Construction Coordinator, is a familiar face to many. Graduating this December with a degree in Construction Science and Management, Zane was part of the 2022 Homecoming leadership team. He echoed Will's sentiment about the challenge of returning to campus.
"It's always a challenge to transition from the summer to the fall," he explained. "We have to wait until the Clemson football schedule is released, and then we have to scramble. I've been working with Chris Mastandrea, the Pickens County Habitat for Humanity Construction Coordinator, to ensure we get everything together as soon as possible. We're working to coordinate surveying and material deliveries, and to make sure we have the people and equipment that we need to make the Build a success."
When asked about his role with the Campus Chapter, Zane was quick to laugh as he shared, "I first got involved with Habitat during my freshman year. "I didn't see the club during Tiger Prowl, so my introduction was when I saw the Homecoming Build underway. I asked someone what was going on and found out they were building a house right there on Bowman Field. I went over to check it out, and they told me to fill out the waiver, so I did. I got to work and had a great time. It was powerful to work alongside the people the house was being built for - knowing that you're having that impact on the community is really rewarding. I got more involved with the club after that. Now I hope to pass that on to someone else, someone who is just as invested as I am."
After graduation, Zane hopes to own his own company building custom homes. That doesn't mean he's giving up on his commitment to affordable housing, though. "There have been a lot of people I've met through Habitat, some of my closest friends. I've met people in my own major that I'd never encountered. I've gotten to work with the retired guys who volunteer with the affiliate. It's an amazing experience that brought me closer to my community. I think I'll continue volunteering even after I've graduated."
Magdalena Bania, the chapter's treasurer, is a freshman majoring in financial management. She plays a pivotal role in managing the chapter's finances and ensuring that its projects are adequately funded. "I really want to focus on the mission," Magdalena shared. "I want to help raise capital and build that house."
When asked about the group's fundraising efforts, Magdalena explained, "We're in the early stages, but we will be doing an auction and also a direct mail campaign." Her plans don't stop there, though. "I'd like to try to get better opportunities for funding for the Chapter, to make it easier to build the house, or maybe one day, even multiple homes - especially considering the desperate need for affordable housing in our area. It's about finding ways we can better serve the community and ensure the needs of families are met."
Magdalena emphasizes the importance of donating to the Build and encourages online contributions. "We have a website that makes it easy to contribute and it's such an important cause. Even the smallest donation helps to construct the house—while raising awareness of the desperate need for affordable housing."
These are the voices and faces of the dedicated student leaders propelling positive change through the Campus Chapter. Their collective commitment and tireless efforts are geared toward ensuring that the 2023 Homecoming Build surpasses all expectations, making a meaningful impact on a local family's life while leaving a lasting legacy for the future of the club.
Donations to the 2023 Homecoming Build can be made online via https://clemsonhabitatfh.crowdchange.co/30663 or by mail to:

Pickens County Habitat for Humanity at Clemson University
PO Box 412
Clemson, SC 29633