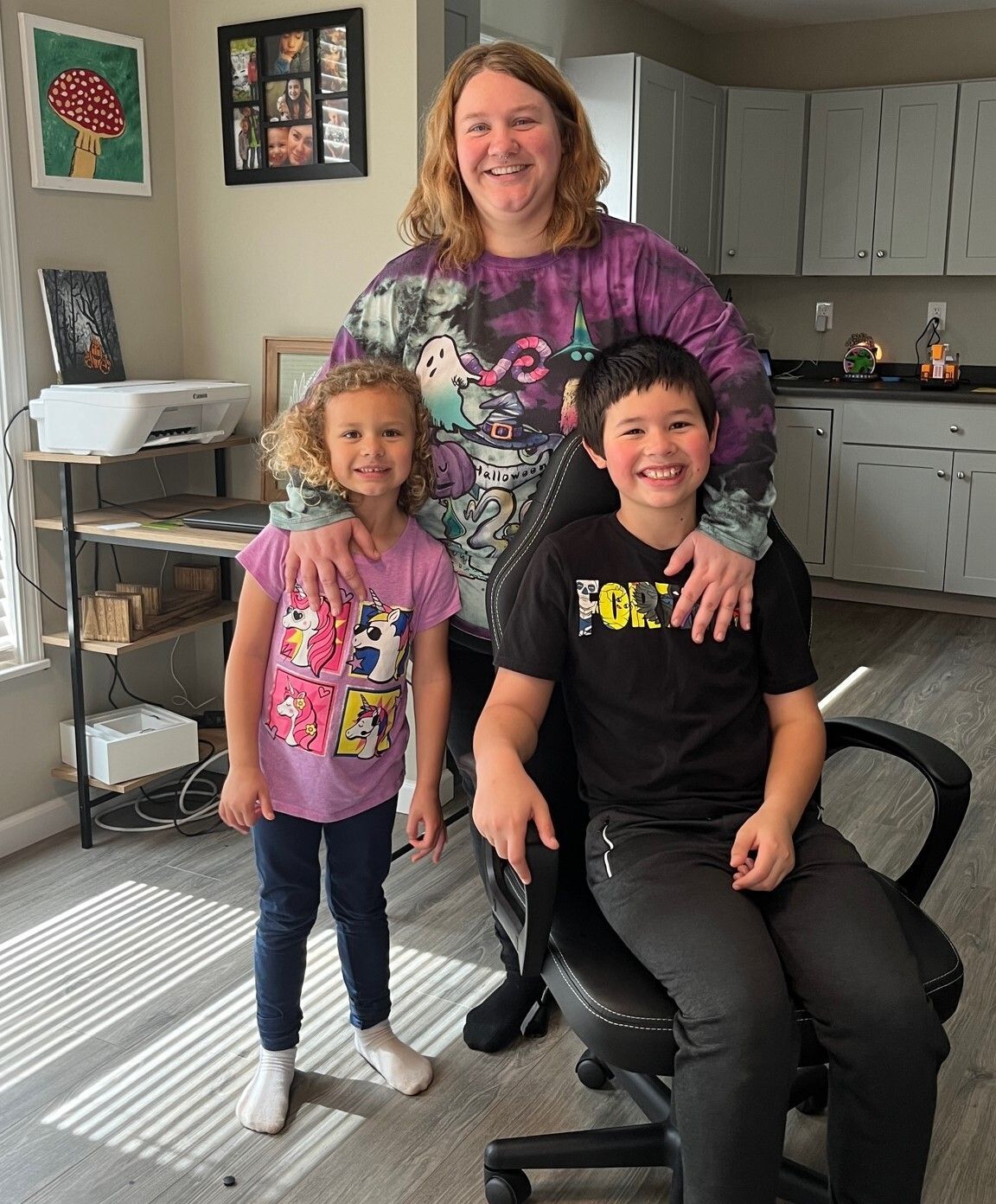 Pickens County Habitat for Humanity celebrated a new Home Dedication for the Bramlett family! Amanda Bramlett and her two children, Tidus (11) and Emilia (5), moved into their new home in February and are continuing to settle in. PCHFH staff, board members and volunteers joined together on March 26 to celebrate the new Bramlett home alongside their family and friends.
Also in attendance were three representatives from Prisma Health Baptist Easley Hospital who volunteered to help construct Bramlett's home during the annual Prisma Health Partnership Day in February 2022. Chris Bowers, Megan Harrington, and Taquella Young from Prisma came along to present gift baskets with home essentials such as cleaning supplies, a first aid kit, and a toolbox. They were able to see the completion of the house they worked on, and met the homeowner to talk with her about her life-changing journey with Habitat for Humanity.
Bramlett says life is much better and easier since moving into their new home, and the transition has been smooth. Tidus and Emilia are excited to have a new home, a big yard, and their own bedrooms. The Bramlett's also have three pets who are making an adjustment.
"We're closer to everything and we all get our own room now," she said. "My cat was not sure what to think because this was somewhere new, and of course the dogs like sniffing everywhere. But they love it too!"
Bramlett was living in a two-bedroom, rented mobile home that is 30+ years old. Numerous problems with the home meant frozen pipes during the winter, unsafe electrical wiring, a leaky roof, and poor plumbing in the bathroom resulted in mold throughout the home. She said one day she was so fed up with her circumstances that she turned to social media for suggestions on next steps to improve her living situation. That's when someone suggested she look into Habitat for Humanity.
"I asked Facebook one day, 'What's the best thing for us to do to possibly get out of here?' because I was just tired of our circumstances," she said. "People suggested some stuff, and someone said, 'Well, check Habitat.'"
This was a new approach that she hadn't yet tried, and since she'd heard about Habitat years ago, she was somewhat familiar with it. So, her next step was to visit the PCHFH website, PickensHabitat.org, to begin the application process, and was approved on her first try! In about one year, Bramlett changed her family's circumstances with the help of Habitat, and they now have a safe and secure home of their own!
The path to Habitat homeownership includes some qualifiers. Applicants must demonstrate ability to pay for a mortgage, maintain consistent employment, and perform several hundred hours of Sweat Equity. The Sweat Equity includes learning about home maintenance and personal financial management and performing construction.
"Some of it was hard because it's hard work I'm not used to. But it was very cool," Bramlett said. "I enjoyed learning new things and experiencing things because there's stuff I just didn't know about in general."
After all the time and effort, she says she is happy she took the necessary steps to become a Habitat homeowner. When asked what she would tell other prospective Habitat homeowners about her decision, she was encouraging.
"It's worth it," she said. "It's the best thing that could happen to you."
If you or someone you know is looking for the comfort of home, please contact our office: (864) 878-6374, or JillEvans@PickensHabitat.org, or visit PickensHabitat.org/what-we-do/homeownership to learn more about the safety and security of Habitat homeownership.