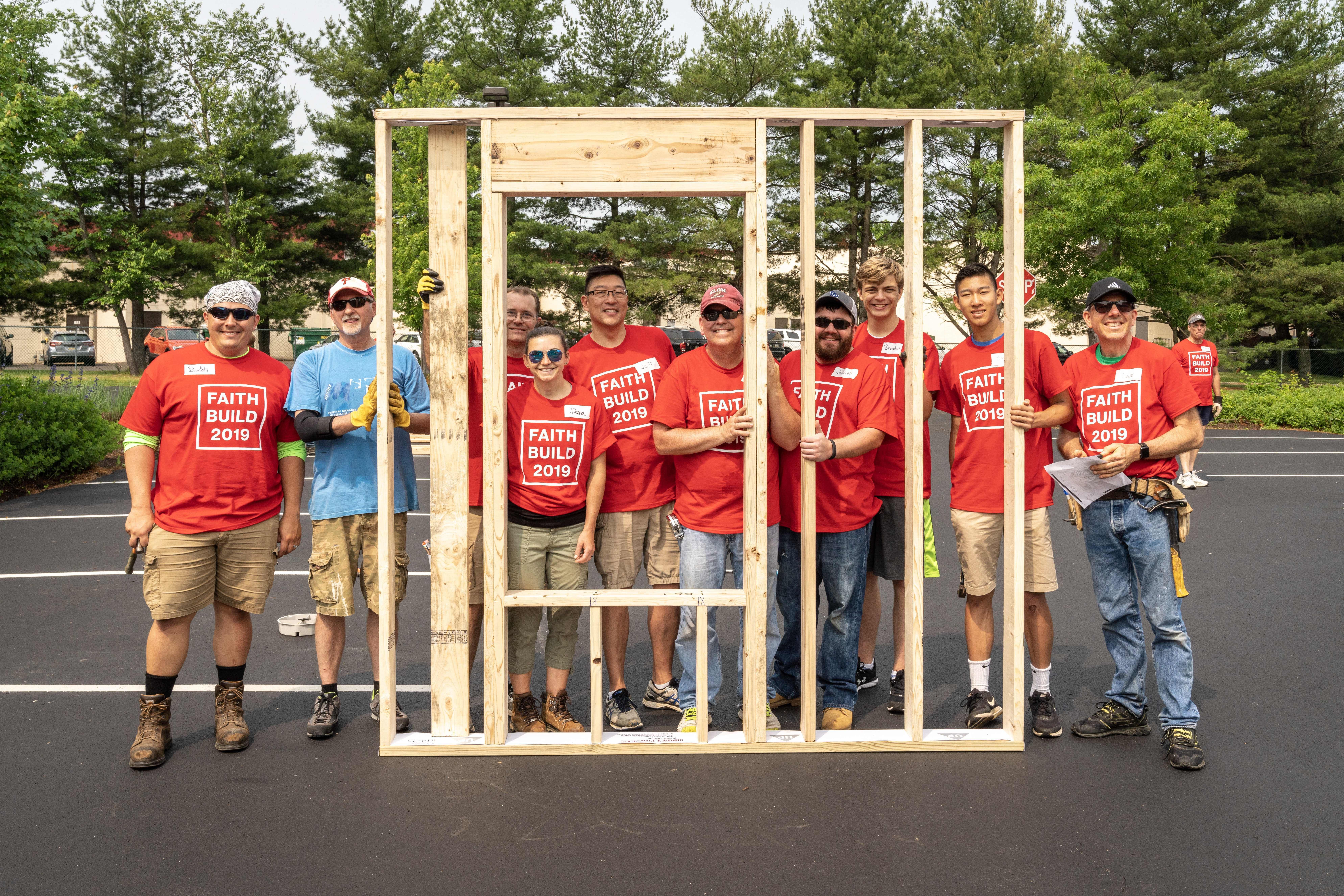 Since its beginnings, Habitat for Humanity has been grounded in principles of faith. The nonprofit's mission, to put God's love into action by bringing people together to build homes, communities and hope, has served as a constant guide for the Pickens County Habitat for Humanity staff and volunteers. One way that this faith-based mission has been carried out in the South Carolina Upstate is through local church participation in Habitat projects. These churches have participated in a local Apostles Build, helped on the Pickens County Habitat for Humanity at Clemson University (Campus Chapter) Homecoming Build and have served overseas with Habitat.
The idea of an Apostles Build was first created by Habitat. Just like Jesus' 12 disciples came together to serve their communities, 12 churches work together to build a home for a family in their local community. PCHFH completed their own Apostles Build in 2011. PCHFH staff wanted to implement this project because they realized there were many small churches in Pickens County that desired to contribute to Habitat's mission, but were not able to commit to fully funding or building an entire house due to the smaller size of their congregation.
With this goal in mind, PCHFH staff began sharing their vision with local churches, and eventually, 12 faith groups committed to being a part of the first PCHFH Apostles Build. These faith partners, both churches and other Christian organizations, included The Mount Church, Cannon Memorial Baptist Church, Fellowship Community Church, Liberty United Methodist Church, Ridgeland Drive Baptist Church, King's Grove Baptist Church, the Southern Wesleyan University Girls Softball Team, Unitarian Universalist Fellowship of Clemson, Trinity Wesleyan Church, Liberty First Baptist Church, First Wesleyan Church and Flat Rock Baptist Church. The organizations committed to pray for the project, to help provide funding, to serve on two workdays with a team of 15 volunteers and to nominate a contact person to stay in touch with the other partners.
Organization and recruitment for PCHFH's Apostles Build began in October 2010. Construction on the house in Liberty, South Carolina, was completed by the summer of 2011. PCHFH's Apostles Build was a picture of what it looks like for faith to be put into action and allowed local churches the opportunity to partner with each other in ministry.
The Campus Chapter Homecoming Build has provided another outlet for local churches to participate in Habitat's mission. The Rev. Chris Heavner, retired Campus Pastor of University Lutheran Church in Clemson, was an integral part of getting local churches involved in the Campus Chapter's Homecoming Build. Heavner first got involved with Habitat during his work as a Lutheran minister in Houghton, Michigan. When he moved to Clemson in 1993 to take the Lutheran Campus Ministry pastor position, he was excited to see that there was already a group of Clemson University students working with a local Habitat affiliate. When Heavner learned that there was talk about a Homecoming Build on Clemson's campus, he was quick to get involved. He helped coordinate and lead the construction of the Campus Chapter's first Homecoming House in the fall of 1994.
With the first Homecoming Build behind them, the Campus Chapter began planning for the next Homecoming Build. So Heavner helped come up with a plan to aid the students in the fundraising and construction. The Clemson Rotary Club would raise money for the framing package of the house and churches in downtown Clemson would finish the Build on-site at its permanent location after the house was moved off of Bowman field. For seven years, this model of calling upon local congregations to finish the Build was used. According to Heavner, this was a great way for the churches to partner together in ministry and for PCHFH to identify churches that wanted to be further involved in Habitat.
"We did this rotation where instead of having one church take all 12 spots for a Saturday, each of them would take four. So that way you'd have four Episcopalians, four Presbyterians and four Lutherans," said Heavner. "It allowed the congregations, or faith communities, in Clemson to set apart theological differences and be more united."
In February 2001, multiple groups across Pickens County, including PCHFH, the City of Clemson, Clemson University, the Campus Chapter and students from Tri-County Technical College, among many other volunteers, came together to work on a project called the Blitz Build. The Blitz Build project took place in a period of two weeks, during which time five houses were built by the combined efforts of all of the groups mentioned. This project was initiated by Clemson students, and with the help of the community, it was a huge success!
After the Blitz Build in 2001, many churches returned to the way that they had previously been involved with Habitat:  building homes with only their own congregations. Nevertheless, the effect of many congregations coming together to work on the Homecoming Build from 1995 to 2001 garnered a greater sense of unity within communities of faith in the Clemson area and a more focused approach to partnering with churches for PCHFH. Heavner believes that no matter how churches choose to get involved, their efforts are of vital importance to Habitat's mission.
"What is it that God is calling us to do? Jesus didn't call his disciples to go out there and make sure that people understood these conditions, he said feed my sheep and tend my lands. If I'm building a house that you're going to live in for the rest of your life, I can't think of a better way to feed and to tend," Heavner said.
Serving alongside Habitat internationally is another way that Pickens County churches have actively participated in their faith. First Baptist Church of Clemson has had a close relationship with PCHFH for many years. They have participated in local Habitat builds, including the Campus Chapter's Homecoming Build, and have volunteered with Habitat in Honduras. Church member and Habitat volunteer Cathy Turner has been on many of these Honduras trips.
Turner first got involved with Habitat in the early 1990s when she was working as a stay-at-home mom. She wanted to get involved in her community in any way that she could and was introduced to Habitat by First Baptist Church of Clemson. Turner was able to be a part of the first Honduras trip that First Baptist Clemson went on in 1995. To Turner, this trip was a great reminder of what it means to be a Christian.
"You go into it, not to save a soul, but looking at that person to see anew the mission statement by which you go there as a Christian who is acting in Christian ways to be action oriented," Turner said.
Jesus commanded his followers to love their neighbors as themselves. So, to Turner, being a Christian means taking action, and she believes that Habitat is a great way to do this.
"Habitat is such a wonderful avenue to make scripture work. I think those that work in it work real hard to put Jesus' sandals on," Turner said. "But the one thing that I have loved about Habitat is that it is not exclusive. It can be everybody. Everybody can do a little something and it's for the good."
Habitat started as an organization rooted in faith and these roots have only been strengthened over the years as church members have put their faith in action and partnered with Habitat locally and internationally. If you or your church would like to get involved with PCHFH, there are plenty of ways to do so.
Within PCHFH opportunities include:
Partner with PCHFH for a group build day or several days per month
Partner with PCHFH to build and fund a new Habitat home
Serve on the PCHFH Board of Directors or other committees including Homeowner Selection and Support, Construction and Safety or Communications and Development.
Within your church you can get involved by:
Prepare snacks or lunches for volunteer groups
Make PCHFH a part of your mission work by collecting a monthly contribution from your congregation
Allow PCHFH to share our mission with your Sunday school classes, during a church service or simply with an announcement in the bulletin
Advocate for safe, affordable housing accessible for all
Encourage church members to volunteer individually
To learn more about PCHFH or how to volunteer or donate, call (864) 878-6374, email Jill Evans, or visit PickensHabitat.org where you can find information about volunteering and donating to Habitat.