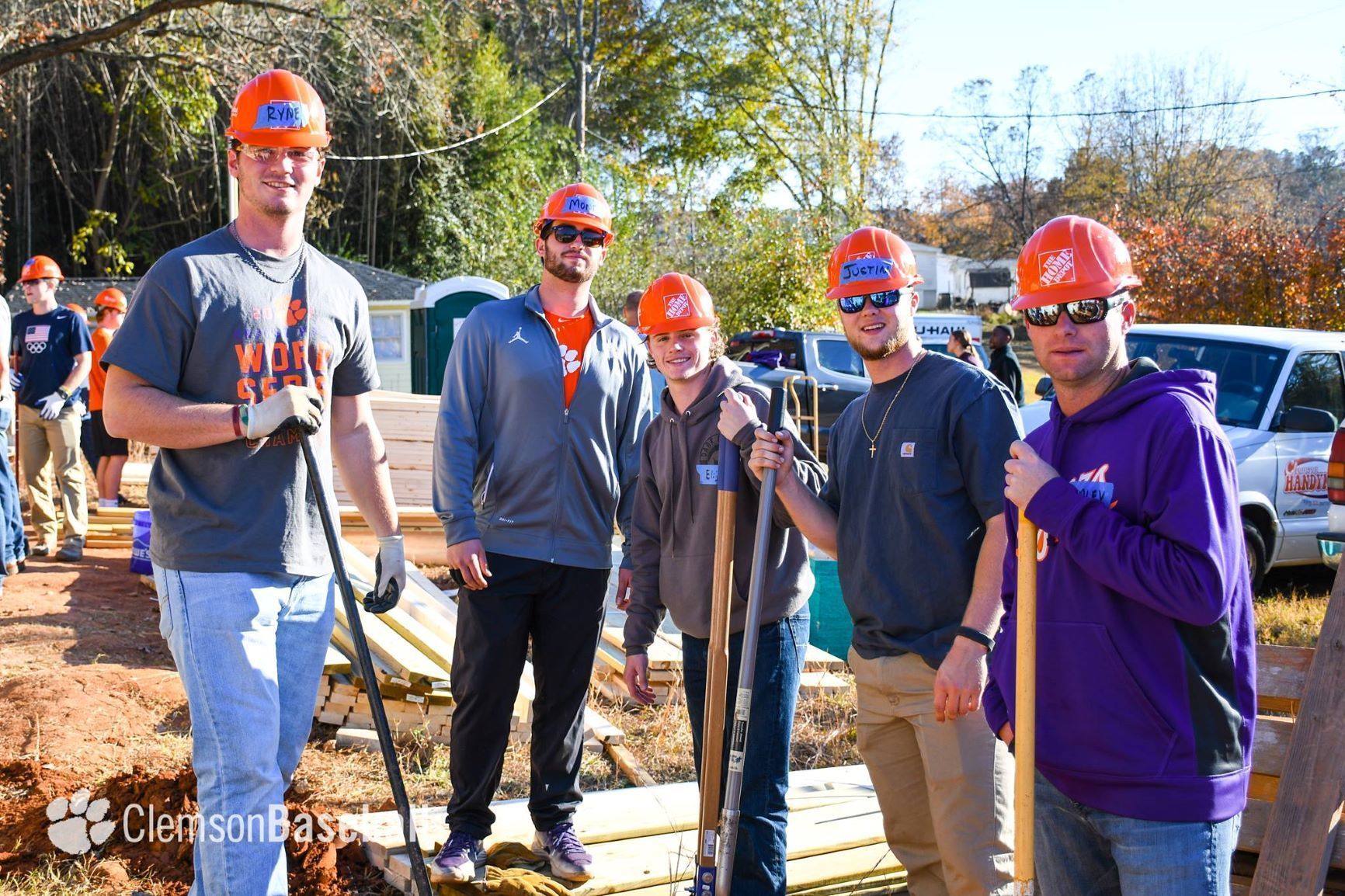 The new year rings in feelings of hope and beginnings for many people. For Tabitha Good, the new year brought a new home! On January 16, 2020 Pickens County Habitat for Humanity dedicated the Athletics Build project to a family of five. The house was built with the help of 330 Clemson student-athletes and 50 staff members who volunteered more than 1,200 hours and raised more than $20,000!
Clemson University Athletics partnered with PCHFH with the idea to improve student-athlete community service participation through volunteer work. Since then, the Athletics Build has worked with the Nieri Family Student Athlete Enrichment Center and Clemson Athletics to provide student-athletes with a learning opportunity to grow their leadership skills. This also helps make a positive impact in the community.
Members of each athletic team contributed to the project with PCHFH staff and volunteers throughout the entire building process. Student-athletes worked alongside Good, her husband Abibe, and their three children –– Arabella , Madji and Omar –– to complete the home. Two students in particular, Kamryn McIntosh and Justin Malou, invested many hours helping out on the Good house. They each offer unique perspectives of participating in the build, as they both understand the value of giving back.
A senior runner on the women's track and field team, McIntosh lived in a Habitat home of her own in Hillburn, N.Y. Just like PCHFH homeowners, building a house was a huge step for McIntosh and her family.
"We were so excited about this house! We had always lived in an apartment and we were so grateful," McIntosh said. "We got a house, we got a dog and everything came together! It was like a new chapter for us."
McIntosh knew what to expect during the Athletics Build after watching college students build her own home. Coming to Clemson and giving the same support back to another family has made her Habitat experience come full circle.
"It's not just building a house, you're helping somebody, you're doing something for a purpose," she pointed out.
McIntosh was able to build a rapport with the Good family while on-site, which helped bridge the relational gap between the homeowners and the student-athlete volunteers. She understood firsthand the family's feeling of accomplishment and gratitude and was happy to offer someone else the same opportunity that she received as a young girl.
"I learned on top of my own Habitat experience, how grateful somebody can be. She was very, very grateful for what we were doing and how we can all come together," McIntosh said.
Malou volunteered on the same house, but with a different perspective. As a senior from Kedougou, Senegal and member of the men's soccer team, Malou is an ideal representation of Clemson Athletics' core values of giving back through his community investment efforts.
"I like giving back to the community because without the help of people, I would not be here," Malou said. "People really impacted me. People really went out of their way to help me. For me, it's really a big thing to give back to the community."
Attending Clemson and participating in volunteer opportunities with Habitat has pushed Malou out of his comfort zone and allowed him to get involved in events such as the Black Student Athletes Summit, as well as become president of the International Student Athletes Club. The Athletics Build was a mutually beneficial experience for Malou –– he gave back to the community through volunteer work and also developed leadership and communication skills of his own.
Not only did the Athletics Build contribute to Malou's personal growth, he also learned a lot about North American culture and the differences of home building in Senegal. During the Athletics Build, Malou worked on the foundation of the Good home, helped frame the walls and installed new windows. In Senegal, they primarily use concrete instead of wood for home construction, so Malou was surprised to discover a new approach.
Years later and on the volunteer side of things, McIntosh better understands the organization as a whole and the meaning behind what Habitat does. The Athletics Build allowed her to share her own Habitat story with her teammates while also working to write someone else's.
"Seeing the smile on that family's face, that's exactly how I reacted and now I'm that person that I was smiling at," she said. "If somebody wasn't willing to do it for me, then I wouldn't be here. So if I can do it for somebody else, maybe it will help them in the long-run like it did me."
Malou's innate giving spirit and disposition toward helping others was quite evident in his reflection on volunteering with Habitat. "It's something I enjoy –– it comes from the bottom of my heart to help," he remarked. "If I could do it again, I 100 percent would."
The Athletics Build instilled qualities of generosity and compassion for others by giving back to the Clemson area community. Student-athletes bonded with each other through the physical work of the build and gained a better understanding of real life outside of Clemson. The relationship between Clemson University and PCHFH is a strong one that builds philanthropic student leaders and inspires action among passionate volunteers.
To see Good's homeowner journey in action, watch this video. 
To learn more about student athletes' contributions, watch this video.