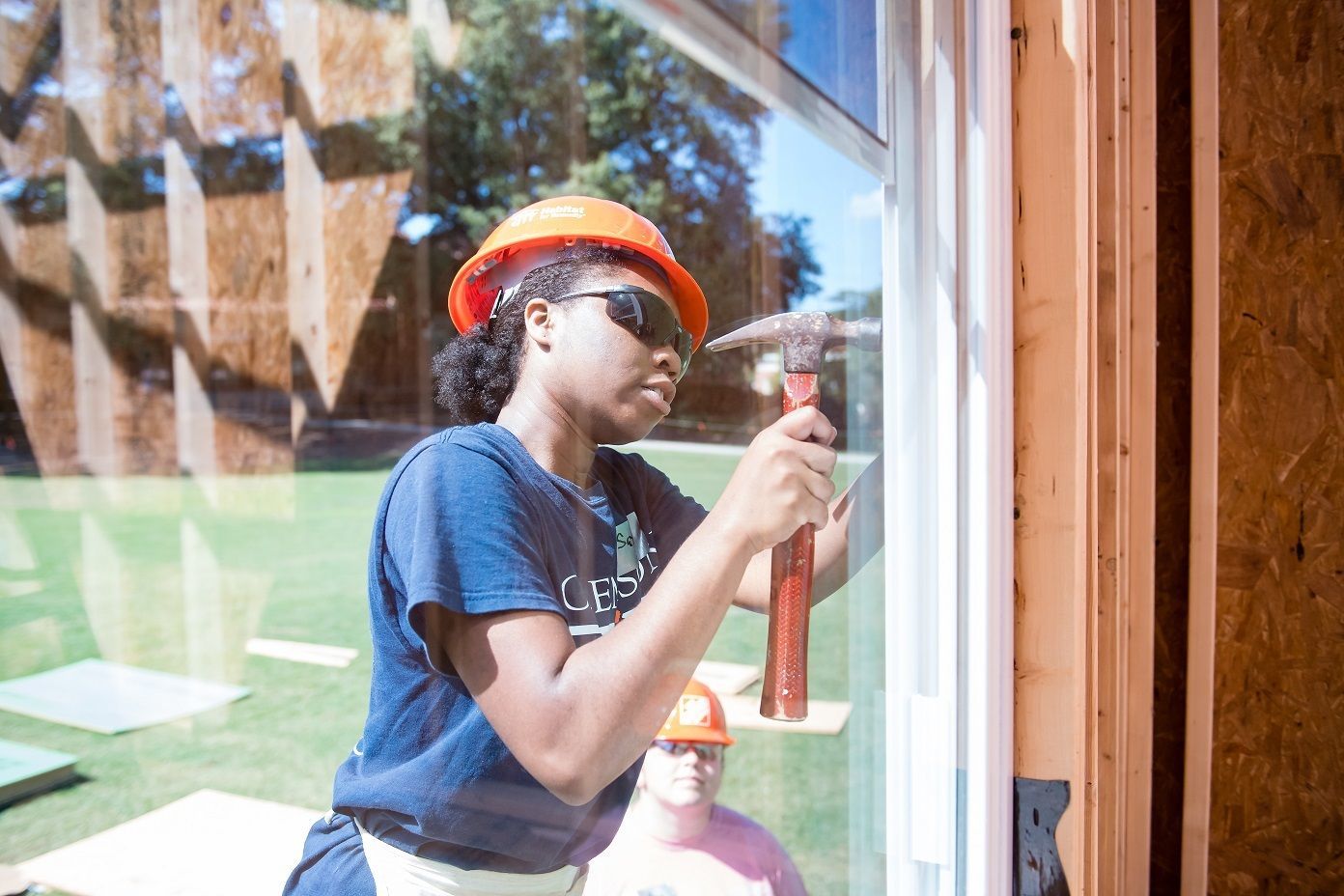 Going into its 28th year, the Clemson University Homecoming Build in partnership with Pickens County Habitat for Humanity has become a notable annual tradition that people look forward to every fall since its start in 1994. Pickens County Habitat for Humanity at Clemson University (Campus Chapter) constructs a house every year during Homecoming week to provide a permanent housing solution for a family in need. This Clemson tradition is the only student-led Habitat for Humanity build in the nation that constructs a house on campus annually! 
Throughout the week, more than 500 Clemson students and community volunteers contribute to the Homecoming Build. In this short timeframe, the framework of the house including the floor, walls, windows and roof is completed. After Homecoming, the house is moved to its permanent location to be finalized.
The origin of the Build began after two Clemson students won an architecture design competition for their entry of a simple low-cost house. Students Rudy Elert and Paul Acorn went to the Dean of Architecture at the time, Jim Barker, with a proposition to build their award-winning house design on Bowman Field during Homecoming week along with all of the floats that sororities, fraternities and clubs construct. Barker supported the idea of showcasing his student's work and served as a true champion in making their vision become reality. As a result, a conversation with PCHFH arose with the support of Dr. Bill Dowler, professor of agricultural and environmental sciences, and Dr. Joe Dickerson, professor of plant pathology and physiology, as liaisons to construct a house that would bless a family in need.
In order for the Build to take place, PCHFH needed help raising extra funds. The freshly chartered Campus Chapter raised $5,000 in contributions from former IPTAY Executive Director Joe Turner and others in the local community. With the help of a matching grant from Habitat for Humanity International, sufficient funds were available to make what would become the first annual Clemson Homecoming House in fall of 1994.
The Rev. Chris Heavner, retired Campus Pastor of University Lutheran Church, was Faculty Advisor to the students of the Campus Chapter. He describes the Homecoming Build as an iceberg. The house on Bowman Field is the part that you see above the surface, but underneath the surface is the overarching result of educating over 10,000 college students through the years about why it is so important. If it were not for the students' time, energy and money, their neighbors would not be able to call a home their own.
The Homecoming House is located at the end of Bowman Field, separated from the other Homecoming float displays, to indicate that the house is not in competition with the floats, but serves as another construction event that represents comradery and the Homecoming spirit that everyone so loves. The separation also shines a light on Habitat for Humanity's mission amidst the University's celebration.
Imperative decisions have been made with the Homecoming House in mind. When the street lights were added in front of Sikes Hall on campus, the University contacted Heavner to ensure that the new light posts would not interfere with the Homecoming House when being transferred toward the highway for permanent placement.
Prior to Homecoming in 2015, College GameDay, the ESPN pre-game college football TV show, was broadcast from Bowman Field for the Clemson vs. Notre Dame game. A combination of heavy rainfall and moving production equipment around left Bowman Field in a muddy, inadequate condition to build on. Instead of canceling the Build, the University worked with IPTAY who gave up a tailgate parking lot, so that the Homecoming Build could be relocated to the intersection of Cherry and McMillan Roads.
"Every single challenge revealed the commitment of this community and the University to this partnership," said Heavner. The people who have stepped up to ensure that this tradition continues to be fulfilled have been critical to its ongoing success.
The most important part of any tradition though is a spearhead leader. Without Heavner, the tradition of the Homecoming Build likely would not be so strong. According to former Campus Chapter member, Tom DiAntonio, it was Heavner who brought him and many other students on board from Lutheran Campus Ministry at Clemson to invest in PCHFH and the Homecoming Build from the very beginning. The passion Heavner has for Habitat's mission is undeniable and it flowed into the students he led, fostering a club that would more than exceed expectations.
Over the years, the impact of the Build has grown immensely, resulting in more volunteers reaching out to the Campus Chapter to offer their services in any way they can without extensive recruiting efforts. DiAntonio and many other former Campus Chapter members and alumni come back each year to help with the Homecoming Build. This overwhelming involvement and ongoing support serve as a true testament to the tradition's magnitude.
When asked why students should consider getting involved with the Homecoming Build, former Campus Chapter member, Christine Hart replied, "Really Clemson is a part of a bigger community, and so are you, and I think recognizing that the struggles and needs around you in your college community are your issue too and your responsibility too, is important."
In the course of her time at Clemson, Hart served as Assistant Homecoming Build Coordinator in 2016 and Homecoming Build Coordinator in 2017. During an interview, she reminisced about her memories of sleeping at the Build overnight to protect the house and tools, the dedication and hard work she and her fellow Chapter members committed to fundraise for the Build each year, and the immense pride she felt after completing the framework of a house in such a short amount of time.
"That quiet moment of reflection that, 'Omigosh this house wasn't here 10 days ago!' and knowing that people have passed through that either learned about Habitat for the first time, or have seen again and again what students and community members have done" always made it "so special to see it all finished," said Hart.
DiAntonio agreed that the Homecoming Build is an experience like no other. What he loves about it is that, "You don't need to know a whole lot as far as building skills. Anyone can teach you how to swing a hammer and do some of the simple tasks."
Not only is the Homecoming Build something that people look forward to every year because it is fun, but because they have the opportunity to make a big difference in the life of a local family who needs a safe and affordable home.
Even though the University Homecoming celebration did not take place in 2020 due to COVID-19, the Homecoming Build tradition persevered. In order to do so, necessary changes were made such as relocating the house from Bowman Field to its permanent location in Clemson where the homeowner will reside, limiting the number of student volunteers and adult supervisors on the job site at a given time and enforcing COVID-19 safety protocols. It certainly was not a normal Homecoming Build experience, but the passionate Campus Chapter members overcame a challenge to continue to build with love for a homeowner in need, proving once again that this tradition will continue on for many Clemson generations to come.
Perfectly put by Heavner, the Homecoming House "has become a project for which the community takes pride in understandably and appropriately, and it is something that continues to embody the Clemson spirit in a marvelous way."
The Campus Chapter is preparing for the 2021 Homecoming Build and a school year full of volunteering. To get involved, visit the Campus Chapter's Instagram page (@cu_habitat), Facebook page (@clemsonhabitat) or contact the club directly through TigerQuest. To sign up for volunteer shifts at the 2021 Homecoming Build, visit the Pickens County Habitat for Humanity at Clemson University SignUpGenius. If you would like to donate to the 2021 Homecoming Build online, please do so here. If you prefer donating by check, please address it to "Clemson University Habitat for Humanity," PO Box 412, Clemson, SC 29633.