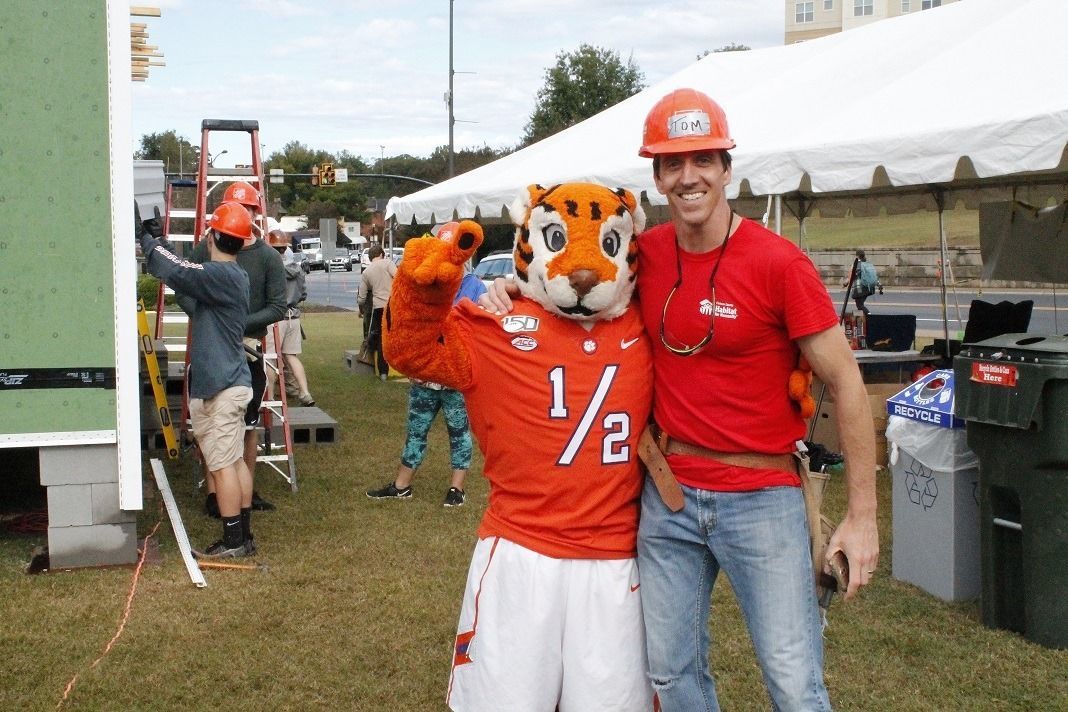 Family. Community. Love. Learning. 
Christine Hart, Tom DiAntonio, and Emily Shumpert repeated these same four words when sharing their Pickens County Habitat for Humanity memories. Each of their stories began with their involvement in Pickens County Habitat for Humanity at Clemson University (Campus Chapter), their relationship with faculty advisor, the Rev. Chris Heavner, and the annual  Homecoming Build. The Rev. Chris Heavner, retired Campus Pastor of University Lutheran Church, was Faculty Advisor to the students of Pickens County Habitat for Humanity at Clemson University (Campus Chapter). And each of their stories ended with newfound relationships and experiences that keep bringing them back home to Habitat, regardless of where they live. 
Hart found her home in Habitat through the Lutheran Campus Ministries at Clemson in 2015, her freshman year on campus. LCM assists with the annual homecoming build by providing PCHFH with volunteers that spend the night at the house while it is being built. These volunteers, deemed "Night Guards," spend all night at the Homecoming Build on Bowman Field during construction. Not only a fun activity for students, our Campus Chapter secures other student groups such as fraternities, sororities, ROTC, and campus ministry groups for every night of the build so that the house can be guarded and kept safe from possible theft or vandalism.
"My first year, I really just spent the night at the house," said Hart. "I started volunteering more heavily my sophomore year, and then I was assistant coordinator my junior year, and then senior year I served as the coordinator of the Homecoming Build. But, nothing is better than sleeping at the house. I think that is the most fun thing about the build!" 
DiAntonio transferred to Clemson in the fall of 1997 when PCHFH built two houses during Homecoming week, but did not get involved until the following year after meeting Heavner, Lutheran Campus Ministry Pastor and hearing about the build through a few friends. 
"Outside of my classes, working with Habitat was where I spent most of my college years," said DiAntonio. "I went on two spring break builds with them, and the energy around the homecoming build was just incredible. Beyond my time as a student, these trips are where I got close to my best friend, and my wife." 
Shumpert found her way to Habitat in 2013 during Tiger Prowl, where she signed up for fun as a means to fill a few hours here and there during Homecoming week. However, she didn't realize how invested she would become so quickly, serving as assistant coordinator of the build her sophomore year.
"I heard about the Homecoming build my freshman year at Clemson University and signed up to volunteer [at the build] for an hour or two a few days that week," said Shumpert. "During the homecoming build, I met PC [ Heavner], and one day specifically, he told me he'd see me tomorrow, and I knew I couldn't let him down, so I showed up the next day too. And that's how it all started." 
While all three of these former students shared memories of how it all started with a smile, they noted it wasn't all fun and games. The lessons they learned from their time with the Campus Chapter have helped them in other areas of their lives. 
Shumpert and Hart, who are teachers now, both credit the Campus Chapter and the Homecoming Build with teaching them the power of asking and the confidence to try something new when something doesn't work. 
"Working with PCHFH taught me that I shouldn't not try something because it is impossible. The worst thing that someone can say to you is no, and more often than not, if you are asking for help, people are going to say yes, so you don't have anything to be afraid of," said Shumpert. 
Hart, who now works as a special education teacher, echoed what Shumpert said, pausing to admit there is a beauty in being flexible and able to pivot in all situations, advice she gleaned from her time working with Habitat and has been able to apply to her teaching career. 
And sometimes, what you learn is simpler than life lessons. DiAntonio, a computer engineer, shared that although he knew a little bit of construction work from his father, the tangible lessons he learned through Habitat enabled him to make repairs and expand different areas of his own house. 
"I know a lot of people are afraid to come out to the Build because they don't know how to swing a hammer, but Habitat doesn't need you to be in construction for you to help," said DiAntonio. "There are always team leaders who are there to show you the ropes and willing to help if you ask."
Not only that, but working with Habitat has opened Hart's eyes to problems that are bigger than herself, giving her a broader understanding of issues like the housing crisis. 
"As a student, it is so hard to think about problems off-campus. But, Clemson [University] is part of a larger community, and regardless of whether you acknowledge them or not, they are your problems too," said Hart. "Habitat taught me to recognize the struggles and needs my community faces and try to help where I can." 
All of these memories and lessons have left Hart, DiAntonio and Shumpert connected to something they are proud of. While they have moved on in their lives, they continue to work and give to Habitat for Humanity. Hart now lives in Charleston and plans to volunteer with her local Habitat chapter during their various builds, while DiAntonio and Shumpert continue to donate to PCHFH financially and volunteer each year at the Homecoming build. 
"I am not as involved with PCHFH anymore as I would like because I live in Greenville, but Habitat provides people with a basic need, which is why I continue to give and volunteer to the nonprofit," DiAntonio said. "Being able to take your blessings and use your hands to build a home, the most basic need for humanity is to build with love, which is what PCHFH is all about."