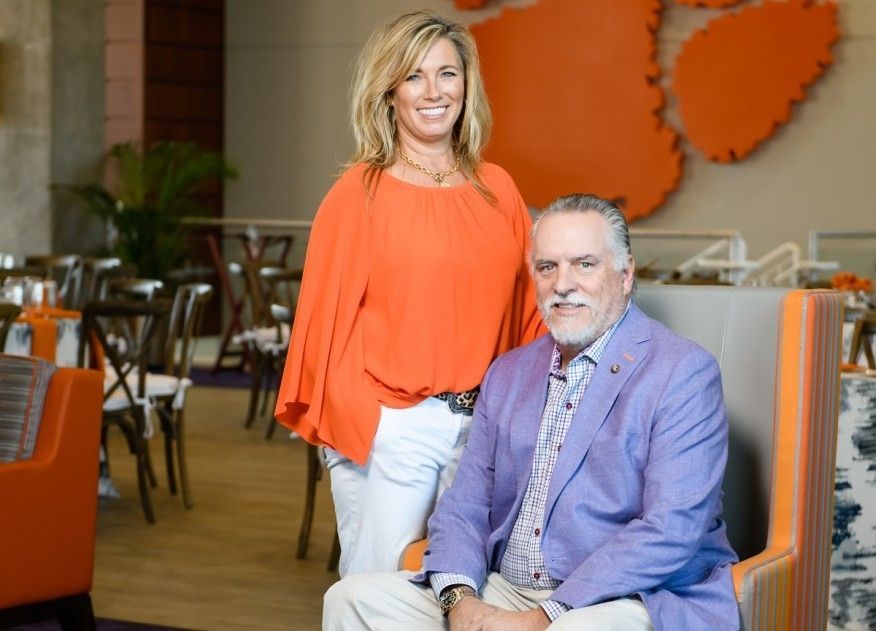 About four years ago, the employees of Pickens County Habitat for Humanity began to think about a way they could display the love they have for their mission to the local community in an attempt to reveal who else has a heart for Habitat. This notion encompasses a desire to love your neighbors and a strong belief in the comfort and advantages that homeownership can provide. Thus, the Have a Heart for Habitat event began as a way to bring community members together in the name of affordable housing and families in need. 
The intention was to create an organic and authentic event where PCHFH employees and volunteers would serve dinner to members of the community who joined together to learn about the good works of Habitat and how they could get involved, whether it was to offer their time, talent, or treasure. 
About 60 people attended the first Have a Heart for Habitat in April 2017. Although fairly small, the event was filled with fellowship and compassion. PCHFH reflected on it and realized that this event could continue to grow into something really special and decided to make it an annual tradition! 
Attendance increased by nearly 30% the next year, and by 2019 the guest list grew to almost 200. At the 2019 event, PCHFH presented the first ever Have a Heart award, an honor bestowed upon an outstanding PCHFH volunteer. Nominees have contributed hundreds of hours of volunteer service to PCHFH and helped the organization to achieve substantial milestones – from building Habitat neighborhoods to securing hundreds of thousands of grant dollars to build homes. The first-ever award recipient was Bill Dowler whose involvement over the last 15 years has been integral to the organization's financial health. Continuing into 2020, the award went to Joe Dickerson for his years of dedication on site building homes and serving on the Board of Directors. PCHFH intends to continue this tradition of recognizing volunteer service and those who have a heart for Habitat for many years to come.
Seeing all the tables filled and the food line moving slowly due to the sizable crowd gave PCHFH a sense of pride and joy for the support they are generating and strengthening. The organization truly feels like they mean something to people.
Rose Davis, PCHFH Resource Development Manager, recalls legendary events from years past with 400 people in attendance. "I remember reading about [those events] like, 'Where are those people now? Where are our supporters?'" she said. "And we certainly are now feeling that we are finally building that back up again." 
In order to grow the event even further for 2020, PCHFH hit the ground running in January, securing $10,250 in sponsorships. Like in the past, the plan was to stick to an authentic dinner, this time at a wonderful venue with music and as always, creating a welcoming and warm atmosphere with people who have a heart for Habitat. But things took a turn once COVID-19 unexpectedly affected the world and the way it operates. 
Davis said PCHFH realized in early March that they would not be able to move forward with the event as usual. So instead of canceling entirely, PCHFH had the determination to host Have a Heart for Habitat in a virtual capacity because families need stability now more than ever! The quarantine of the pandemic has affected families financially due to loss of employment and being forced to remain in unsuitable housing situations. It is essential for the nonprofit to continue its priority of building homes for those in need. 
In an effort to raise more funds, PCHFH challenged the public to match the $10,250 worth of sponsorships dollar-for-dollar through mailing letters and email marketing. Davis said the organization is blessed with consistent supporters who exceeded the goal and raised nearly $25,000. This achievement is more than double the 2019 fundraising total of $10,000 and more than the fundraiser totals of 2017, 2018, and 2019 combined! PCHFH was amazed at how the community came together during such an unprecedented time to provide for their mission.
Similar to last year, the 2021 Have a Heart for Habitat event will also be virtual. It will encompass a three-part challenge campaign taking place from March 18 to May 28, involving individual donors, the Board of Directors, and the community. 
PCHFH is proud to announce a partnership with Michael Nieri of Great Southern Homes and the Nieri Family to kick off the campaign with a $50,000 donation! As a home builder, Nieri and PCHFH relate in their work to provide housing for those in the community. Nieri has demonstrated a strong commitment to the Clemson community and the state of South Carolina through good stewardship. His generous donation continues to prove his commitment to the local community and funds half of the $100,000 goal for the PCHFH 40th anniversary home build, creating a strong starting point in order to leverage more support. Nieri's donation marks the largest individual donation the affiliate has ever received.
Nieri's generosity has empowered the 14 Board of Directors of PCHFH to match 40% of his donation. Their excitement to take on this challenge and encouragement of others to join in has resulted in the raising $20,000 during a 40 day time span concluding on April 27!
To wrap up the campaign, the community will now be challenged to raise the final $5,000 between April 27 and May 28 in order to have three-quarters of the funds raised for the 40th anniversary home build. 
PCHFH is excited to implement an event that will generate support from the community in a time where gathering is not possible and to signify that even during these difficult times, people still have a heart for the mission of Habitat for Humanity. The Have a Heart for Habitat event exemplifies that all you need is a big heart and a compassionate community to spark hope and charity.